Xi touted as new Deng Xiaoping by Chinese official media
Submitted by Hardeep Sidhu on Fri, 08/15/2014 - 12:24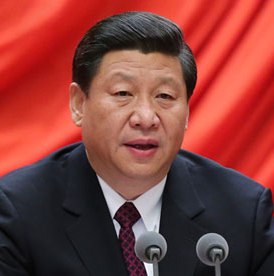 Beijing : As President Xi Jinping consolidated his power to emerge as a strong reformist leader, China's official media has started comparing him with late Deng Xiaoping, who had overturned Mao Zedong's rigid Communist ideology.
Xi identified with the political legacy of Deng, said an editorial, published by the overseas edition of the official People's Daily, the mouthpiece of the ruling Communist Party of China (CPC).
It is the second commentary which has compared Xi's leadership to that of the late Deng, regarded as a paramount leader, ahead of his 110th birth anniversary on August 22.
Deng opened the country to the outside world in 1978 and pursued economic reforms, but was also at the helm of affairs during the bloody crackdown on the Tiananmean democracy movement in 1989.
The commentary said Xi regarded Deng as his role model and identified with his reform policies.
The editorial also mentioned the legitimacy of Xi's fight against corruption and bureaucracy, saying "The move signalled his resolve to sweep away obstacles in the path of deepening reforms on the mainland."
"The problems left by reforms can only be solved by further reforms," the commentary said.
Xi also agreed with Deng's defence of the legacy of Mao Zedong, it said, citing Xi's statement on 120th birth anniversary of Mao that the former leader was a great revolutionary who made mistakes in his later years.
Another commentary on July 31 summarised 10 of Deng's famous quotes that Xi has recited in his speeches.
The article also highlighted former US ambassador Jon Huntsman's comment that Xi "has emerged as the most transformational Chinese leader since Deng Xiaoping".
Xi is widely regarded as the most powerful Chinese leaders in recent years as he consolidated his power base heading the troika of President, General Secretary of CPC and Chief of Military in less then two years after he came to power.
Commentators said the comparison showed that Xi sought to project a reformist image like Deng to both the public and party elites to enhance his authority, Hong Kong-based South China Morning Post reported.
"It has been a tradition in Chinese politics that a new leader needs to position himself under the wing of a great state leader like Deng to legitimise the transition of political power," Hong Kong-based political commentator Johnny Lau Yui-siu said.
He added that the authorities also wanted to highlight the resistance Xi faced in his reform path.
Steve Tsang, director of the China Policy Institute at the University of Nottingham in Britain, said the comparison implied Xi's ambition to be remembered like Deng, not his predecessors.
(PTI)