WEF Davos summit to start today; Jaitley, Goyal to attend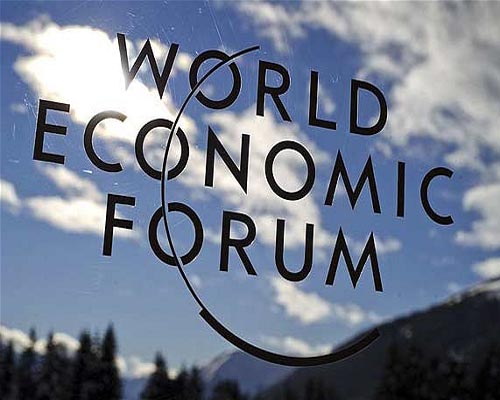 Davos - The World Economic Forum's five-day annual jamboree of the global elite will begin here Tuesday with presence of over 2,500 political and business leaders, including union ministers Arun Jaitley and Piyush Goyal as well as more than 100 industry leaders from India.
Other prominent Indian names would include Chief Economic Adviser Arvind Subramanian, as also Chief Ministers of Maharashtra and Andhra Pradesh -- Devendra Fadnavis and Chandrababu Naidu, respectively.
The five-day Annual Meeting of WEF will also be attended by 40 heads of states or governments, including German Chancellor Angel Merkel, France's President Francois Hollande, China's Prime Minister Li Keqiang, Pakistan Prime Minister Muhammad Nawaz Sharif and Swiss President Simonetta Sommaruga.
Meeting against the backdrop of the world economy facing multiple challenges, the 45th WEF Annual Meeting would discuss 'The New Global Context' as this year's theme, while issues like terrorism are likely to hog the limelight in the wake of recent terror attacks including in France.
The WEF said that the meet is being held at a time when the risk of international conflict poses the "biggest threat" to global stability while likelihood of terrorist attacks has intensified the most since the last year.
Geneva-based WEF, a not-for-profit foundation that describes itself as promoting public-private cooperation, has been holding this high-profile annual summit in this small town on slopes of Alps mountain range since 1971.
The summit, to be kicked off with a welcome address by WEF Founder and Executive Chairman Klaus Schwab tomorrow evening, would continue till January 24 with more than 280 sessions spread across diverse topics including crisis and co-operation, growth and stability, innovation and industry, society and security.
Italian Prime Minister Matteo Renzi, South African President Jacob Zuma, Turkish Prime Minister Ahmet Davutoglu, Tunisian President Beji Caid Essebsi and US Secretary of State John Kerry, would be also present.
Among Indian business leaders, those expected at the annual meeting of the rich and powerful from across the world include Tata group chief Cyrus Mistry, RIL's Mukesh Ambani, ICICI Bank's Chanda Kochhar, Jet Airways' Naresh Goyal, TCS' N Chandrasekaran and SBI's Arundhati Bhattacharya.
Besides, Bharat Forge's Baba Kalyani, Essar Group's Shashi and Ravi Ruia, and Infosys' Vishal Sikka, as also eminent names like Azim Premji, Sunil Mittal, Uday Kotak, Rahul Bajaj, Adi Godrej, Naveen Jindal and Sajjan Jindal will be present.
Among global leaders, Alibaba chief Jack Ma, Microsoft's Satya Nadella? Yahoo's Marissa Mayer and Facebook COO Sheryl Sandberg would also be present, along with IMF Chief Christine Lagarde as also heads of organisations like WTO, ILO, OECD as also central bank chiefs of Brazil, Canada, England, France, Italy, Japan, Mexico and Switzerland, among others.
Jubilant Bhartia Group Co-Chairman and Founder Hari S Bhartia is among the six co-chairs for this year's WEF meet.
Other co-chairs are World Bank President Jim Yong Kim, Oxfam International Executive Director Winnie Byanyima, UK-based Alliance Trust's CEO Katherine Garrett-Cox, Google Executive Chairman Eric Schmidt and Brazil's Itau Unibanco vice chairman and CEO Roberto Egydio Setubal.
Current affairs, such as the escalating geopolitical conflicts, pandemics, diverging growth and the new energy context are also on the agenda.
There would be wide ranging discussions on ten global challenges, including environment and resource scarcity, employment skills and human capital, gender parity, long-term investing, infrastructure and development, food security and agriculture.
The meet would also deliberate upon international trade and investment, future of the internet, global crime and anti- corruption, social inclusion and future of financial systems.
Among other engagements, Finance Minister Arun Jaitley is expected to talk at WEF on how new leadership is transforming the business, political and social landscape of India.
Besides, he would discuss with global leaders the near-term and long-term priorities of the BRICS block of emerging countries in the context of their trade and investment partnership.
In another session, Jaitley would participate in a discussion on how India as the world's most populous democracy will revive and accelerate economic modernisation, growth and job creation. Power and Coal Minister Piyush Goyal will discuss on how new business models are scaling energy decentralisation and emissions reduction, besides his other engagements.
Other prominent figures expected at the summit include many top government officials and Congress members from the US, the Duke of York, UK Chancellor George Osborne, Tony Blair, as also heads of companies like PepsiCo, Walmart, Qualcomm, General Motors, UBS, Mastercard and Monsanto.
The Indian companies whose top executives will be here include TCS, Tata Steel, Infosys, GMR, Hero, Tech Mahindra, Indus Gas, Wockhardt, Wipro, Eicher Motors, IDFC, GE Energy, Tata Steel, Piramal Enterprises, Serum Institute, Punj Lloyd, Hindustan Power, Viom Networks, Fortis, Suzlon and iGate. PTI