Is Virat Kohli The Greatest T20 Cricketer?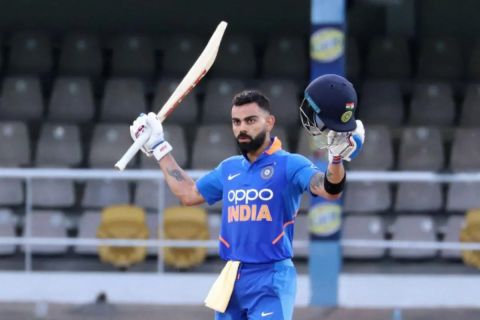 The T20 format is agreeably unpredictable where the whole turning point of a match can be reversed in less than an over. And with names like Rohit Sharma, Martin Guptill, and David Warner featuring in the list of top batsmen, it can be tough to comment decisively on who is the greatest T20 cricketer.
However, if one were to go by statistics, it is not tough to agree that Virat Kohli is definitely one of the finest T20 cricketers to date.
If we consider any major criteria, Virat Kohli will always feature at the top. Whether it is scoring the maximum runs in T20 international matches or the maximum number of half-centuries (27) or the maximum number of boundary shots (278), Virat Kohli tops the list. For those who are still wondering, Kohli scored a total of 3078 across 88 matches (maximum runs) and is the only batsman who scored over 1000 runs in T20 internationals with an average of 52.16 i.e. higher than 50.
Kohli has always been known for his classical approach in batting that secures maximum runs with minimum risks. This batting approach is quite a contrast to the typical aggressive, power-hitting methodology adopted by others. While this format and approach of T20 is something that many Test batsmen could not adjust to, Kohli was remarkably smooth in gliding into it.
"Virat Kohli just always seems to be making runs. Sort of a simple technique, classic technique which obviously applies in test cricket but he has also got the power game," South Arican batsman Rassie Van Der Dussenpraised Kohli in an interview to Betway.
But during some phases of T20 tournaments, when Kohli scored ducks back-to-back, his performance quickly became a topic of discussion and people started doubting his form. But Kohli was back again after following what AB de Villiers had suggested - "to watch the ball" and get back to the basics of cricket.
And the most spectacular thing about Virat Kohli is that whenever he is at the crease for a long time, he invariably makes the bowlers pay, and scores big. And most of the time, he remains unbeaten till the final ball.
In recent times, only Pakistan's Shoaib Malik can be accredited with unbeaten innings more than Kohli, though Malik has been in more matches than him. But Virat Kohli is the king when it comes to chasing runs and emerging victorious. He again tops the list of batsmen who have a minimum of 20 victories batting second, with an average of 108.3 across 31 wins.
MS Dhoni features after Kohli, with 72.5 across 29 wins. One unforgettable chase was in the 2016 T20 World Cup in the match against Australia, where Kohli ran between wickets before sweeping with his cover drives. In that match, he led India to victory and remained unbeaten at 82 runs off 51 balls. He did the same in the 2017 T20 World Cup and then again in 2019.
The IPL tournaments also speak of his stupendous run-scoring capabilities, with Kohli being the highest run-scorer of all times (5878 in 192 matches). And he has adapted too, by raising his IPL strike rate to 152 in 2016, and remaining consistent with it. Kohli can unanimously be credited with not only chasing huge runs but also ensuring decent finishes in the first innings even after batting failures. And that is what makes him great.