Updates of Adobe Reader advisable
Bonn -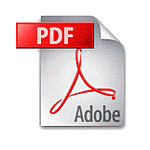 Users of the PDF program Adobe Reader should update the software as several weak points have been found and hackers have already used one of them to their advantage.
Otherwise users risk having damaging files on their computer, the German Federal Office for Information Security (BSI) in Bonn warned.
Most at risk are Adobe Reader 8.1.1 and Adobe Reader 7.0.9 and the older versions of the programs.
The BSI also recommended updating to version 8.1.2 or to 7.1.0 Both are available free of charge on www. adobe. com/go/getreader. (dpa)