UBS confirms slashing 2,000 jobs in US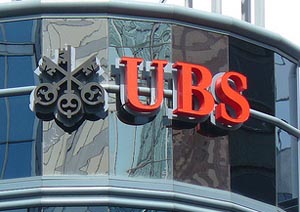 Zurich  - UBS, the troubled Swiss banking giant, confirmed reports Thursday that it was in the process of cutting 2,000 jobs in its wealth management division in the United States.
"This part of the headcount reduction initiative," said a UBS spokesman in Switzerland.
The company, the largest manager of wealth in the world, announced earlier this month that it will take a first-quarter loss of almost 2
billion Swiss francs (1.7 billion dollars) and cut 8,700 jobs worldwide by 2010, including over 2,000 in its base of Switzerland.
Some analysts have questioned the job cuts, saying it would make UBS a smaller bank with less capacity when it came out of the downturn.
The bank has planned to restructure in order to stop its losses and return to the black.
The official first quarter results are expected next week.
In 2008, the bank took losses of over 20 billion francs and has already announced over 11,000 job cuts in the last year.
UBS has suffered more writedowns than any other bank in Europe on investments in risky assets and has seen large capital outflows which have yet to be stemmed.
It also remains engaged in fraud litigation in the US, even following a payout of 780 million dollars in fines in February and handing over of client data to the authorities, in spite of usually strict banking secrecy regulations, due to the severity of the fraud accusations. (dpa)