Twitter flooded with praises from world cricketers over Dhoni's Test cricket retirement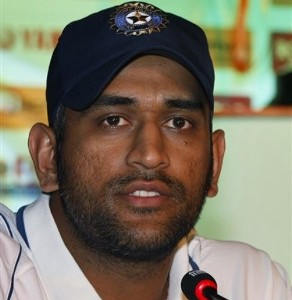 London, Dec 31 - Twitter was bombarded with tweets from cricketers as they praised Indian skipper Mahendra Singh Dhoni on his retirement from Test cricket following the Boxing Day Test in Melbourne.
After the Board of Control for Cricket in India announced the news of Dhoni's retirement from Test cricket on its Twitter account, fans immediately reacted on Twitter with shock. However, Indian cricketers lauded their skipper for the bold decision.
Former Indian captain and batting legend Sachin Tendulkar led the tributes with his tweet. He lauded the Indian skipper for a wonderful career in test cricket, stating that he always enjoyed playing together, The Guardian reported.
Sachin also added that Dhoni's next target should be 2015 World Cup, to his tweet.
Dhoni's teammates joined in the tribute with Suresh Raina posting a selfie with Dhoni, and captioned it, 'Valiant while you led. Valiant in your departure.', with the hashtag '#Respect@msdhoni'.
India's medium-paceman tweeted his congratulations for Dhoni on the skipper's wonderful journey of Test cricket, adding that he would be surely missed.
Former India team captain Anil Kumble also joined in the Twitter tribute. He tweeted, 'Chennai 2 G', adding that it was a great Test career by Dhoni, who retired as captain.
Kumble added that it is the way to go, and congratulated his friend on a fantastic Test inning.
Former England star batsman Michael Vaughan also tweeted that he loves the way Dhoni plays the game, but added that it's now the right time for the Indian skipper to take the Indian Test team in a new direction.
Former Sri Lanka batsman Russel Arnold tweeted that it is a new era for India starting in the New Year, adding that it is full of surprises by Dhoni but it is the right decision.
Former Australian pace spearhead Brett Lee also tweeted his congratulations for the Indian skipper on a fantastic Test Career. (ANI)