Twenty villages submerged after heavy rains in Gujarat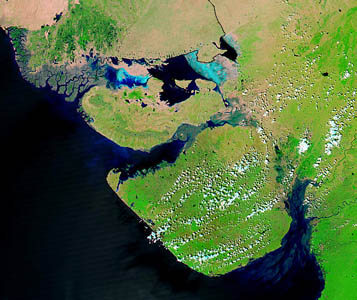 Lakhtar (Gujarat), Sept 18: Twenty villages were submerged after heavy rains created havoc in Gujarat's Surendranagar District.
At least 2800 people were moved to safer places after the region continued to receive heavy rainfall for the second consecutive day.
Surendranagar-Ahmedabad highway too was closed.
People of the villages, who are camping in the municipal schools, complained that they are receiving no help from the government.
"Our houses have collapsed and everything is submerged in the water including our belongings. No government employee has yet come to help us," said Bikha Bhai, a villager.
No loss of life has been reported so far from the area.
Assam and Bihar are already battling floods. (ANI)