Treasure Island jackpot winner to collect almost $230K this weekend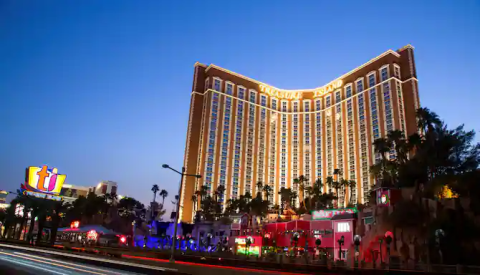 Robert Taylor, a resident of Arizona, will finally collect $229,368.52 that he legitimately won while playing slot at Las Vegas' Treasure Island Hotel & Casino. Taylor hit the jackpot on a progressive slot machine at the aforementioned gaming property on 8th of January, but an error in the gaming machine prevented him from knowing the win. Progressive slot machines set aside a small amount of each bet for an accumulating jackpot. The pooled amount continues to grow until a lucky player hits the jackpot.
Staff at the gaming property told reporters that a 'communication' malfunction kept the winner as well as staff from realizing the fact that the man hit the jackpot. Later, when the massive jackpot was discovered, the name of the winner remained a big mystery. Several efforts were made by the casino staff members to identify the winner of the jackpot, but they couldn't identify the winner.
Then, agents from the Enforcement Division of Nevada Gaming Control Board (NGCB) undertook their own investigation. After watching several hours of surveillance videos and interviewing possible witnesses and reviewed their statements, Enforcement Division agents successfully identified the winner as Robert Taylor of Arizona. Taylor was officially notified of the massive jackpot at around 12:30 on 28th of January, and he is expected to collect his jackpot amount this weekend.
NGCB Enforcement Division Chief James Taylor said, "The Nevada Gaming Control Board is charged with the strict regulation of the gaming industry, the protection of the gaming public, and ensuring that the industry benefits the State of Nevada."
Confirming the identification of the lucky winner, a spokesperson for the Treasure Island Hotel & Casino said they were thrilled that the jackpot winner was finally found, and they were looking forward to award him his winnings.
Mr. Taylor commended the agents of the NGCB Enforcement Division for spending countless hours to ensure that the real winner is awarded winnings owed to him as well as to keep the public's trust in the gaming industry intact.
Malfunctioning of slots is not new. In recent years, there were several such incidents. In one of the most reported such incidents, a female gambler identified as Maribel Sanchez playing at the Newcastle Casino in Oklahoma in 2020 was told that she couldn't claim her $8.5 million jackpot because the machine had malfunctioned. She was wagering $1.25 when she hit $8,469,498 jackpot. She consulted with an attorney, but it remains unknown if a resolution was ever reached.