Traditional Christmas lunch of turkey no more Britons' favourite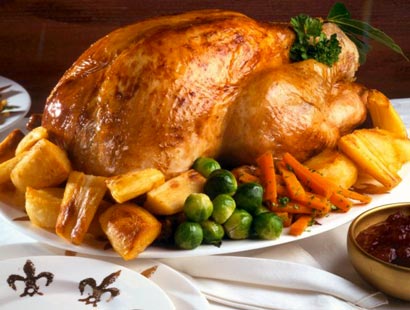 London, Dec 9 : The traditional Christmas lunch of turkey and all the trimmings does not excite British families anymore, says a new research.
A survey, commissioned by Matthew Walker, the world's oldest Christmas pudding maker, found that just 41 per cent of people will roast a turkey this Christmas as millions opt to eat beef, lamb, goose or chicken instead.
The Food Standards Agency, which offers advice on how to cook birds, said that around 10 million turkeys were eaten in 2005.
However that figure is expected to fall to around 7 million as the popularity for turkey on Christmas Day is fading.
In the study, 3,000 people discovered that roast beef is the nation''s second favourite festive meal, with 22 per cent of the vote, and lamb just behind with 18 per cent of the vote.
Chicken comes in fourth with 10 per cent while pork received just 2 per cent of the vote.
Goose and duck have also risen in favour with 7 per cent of those questioned saying they planned to serve them on December 25.
Sales of duck and goose last Christmas rose by more than 50 per cent year-on-year according to Waitrose, which said families were "seeking comfort in more succulent foods".
"Every year, Christmas struggles to keep hold of its true festive traditions and this year's wobbly turkey sales are a reflection of this," the Telegraph quoted a spokesperson for Matthew Walker as saying. (ANI)