Tesla planning to build retro diner at new Santa Monica Supercharger station: Musk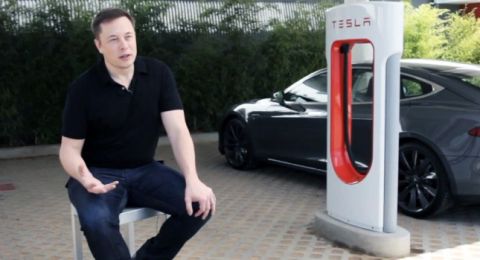 American electric vehicle (EV) pioneer Tesla Motors is planning to build a 1950s-style diner at a new Supercharger station in the City of Santa Monica, CEO Elon Musk confirmed. It is not the first time that Musk has teased the idea of a Supercharger that would bring back the feel of the 1950s. In early 2018, he said that the company would create a roller-skating rink and a diner at the new location to offer a blend of futuristic vehicles and a retro-themed dining environment.
Initially many people though that Musk was just joking about the retro-style diner, but the project really started moving forward after some documents revealed a building permit for the location. However, it failed to gain enough momentum, and the project never turned into a reality.
Recently, documents revealed that the EV pioneer applied for a new V3 Supercharger facility in Santa Monica, which would be the largest of its kind in the world with 62 total stalls being available for EV recharging. The authorities approved the supercharger project but then put it on delay for some time as the Los Angeles housing crisis captured a higher spot on the list of priorities. However, members of the Santa Monica City Council later decided that the location of the proposed Supercharger location would not ultimately be suitable for an affordable housing facility, which brought momentum back to the EV giant's proposed Supercharger facility.
Now, Mr. Musk has reiterated that a "major new Supercharger station" would be created in Santa Monica, and stressed that the retro-styled Supercharger facility with a diner could become a reality. Apart from a 1950's Diner, the facility would offer 100 best movie clips.
Commenting on the plans, Mr. Musk said that the retro-style restaurant at the Supercharger is still in the plans. He said, "Major new Supercharger station coming to Santa Monica soon! Hoping to have 50s diner & 100 best movie clips playing too. Thanks Santa Monica city!"
Offering a diner would be a first as well as an extreme step for Tesla as the company has no experience in operating restaurants, but the EV manufacturer can partner with another company for offering dining facilities to customers.
As Palo Alto, California-based Tesla is known for its unorthodox approach to attracting customers, there is no denying the fact that its new plans to include a retro-themed diner at a Supercharger location can ultimately come to fruition sooner than later.