Tesla Model S Plaid breaks Bugatti's 1/4-mile world record with 9.2 seconds run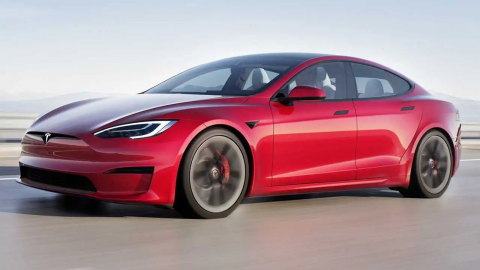 The new Tesla Model S Plaid, the best performing electric sedan ever built by the Palo Alto, California-headquartered EV giant, has achieved a new quarter-mile (1/4-mile) world record with a 9.2-second run on the racetrack, car reviewer Jay Leno announced.
According to Leno, who is one of the few car reviewers with whom Tesla is still working directly, told reporters that he saw the Tesla Model S Plaid covering a distance of quarter-mile in just 9.247 seconds at a speed of 152 miles per hour (mph). A National Hot Rod Association (NHRA) official was present at the racetrack to make the Model S Plaid's achievement official.
The record-setting performance by the Tesla Model S Plaid was given at the Famoso Raceway in Bakersfield—a city in Kern County of the U.S. state of California.
Announcing the Plaid's impressive run on the racetrack, Leno said, "I'll tell you what I did. I went up to Famoso Dragway in Bakersfield. And the Tesla Plaid I drove by, and the NHRA guy was there to make it official. It turned a 9.247, at 152 MPH."
By covering quarter a mile distance in just 9.247 seconds, the Model S Plaid effectively broke the previous record created by the Bugatti Chiron Sport. The Bugatti had set previous record by finish the quarter a mile run in 9.4 seconds at a speed of 158 mph.
Tesla had announced some really impressive specs for its upcoming Model S Plaid, and the EV giant had been bringing prototypes to different racetracks in California to test those specs. Most of the industry experts had been expecting the Plaid to break some records, and it really did.
The Tesla Model S Plaid is a refreshed, higher-capacity version of the Model S, boasting a new powertrain, updated interior, and rationalized exterior design. Designed to replace the Model S Performance, the much-awaited Plaid will come equipped with three electric motors, including a powerful permanent magnet AC synchronous motor. Other eye-catching specs include 1,020 @ rpm horsepower, 0-60 mph acceleration time of 1.99 seconds, top speed of 200 mph, Keyfob, smart device-as-key Remote keyless entry, FM/HD/Satellite, and seek-scan Radio.
However, all those eye-catching specs and features will come at a considerable cost. The Model S Plaid will cost $119,990; while the Plaid Plus model will make the buyer fork out $139,990.