Tesla launches Model Y 19 Gemini Wheel & Winter Tire Package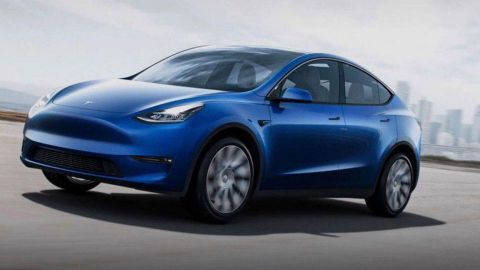 Tesla Motors has announced the launch of Model Y 19 Gemini Wheel and Winter Tire Package, just in time for the first snow and regulations for the new electric compact crossover utility vehicles in the north.
Authorities in many jurisdictions in Northeast require car owners to install 'winter tires' on their vehicles before a certain deadline to ensure safety on slippery roads during snow season. In Canada's Quebec province, all car owners are required to install winter tires on their vehicles by 1st of December.
Tesla's Model Y EV is going to face its first winter this year. To improve road safety for owners of its new EVs, the Palo Alto, California-headquartered carmaker has released the Model Y 19 Gemini Wheel and Winter Tire Package.
Announcing the package, the company said, "Model Y 19 Gemini Wheel and Winter Tire Package provide maximum safety and grip when driving in wet or dry conditions and on icy or snow-covered roads. The winter package guarantees a high level of traction, stability, and braking efficiency under-45° F, so you can enjoy wherever you drive with confidence and comfort."
The package comes with PIRELLI WINTER SOTTOZERO™ tires and costs $3,500 in the United States and $4,700 in Canada.
However, as Gemini wheels come standard with Model Y EV, one can save money by purchasing the 255/45R19 PIRELLI WINTER SOTTOZERO tires from Amazon US or Amazon Canada separately and get them installed on the already existing Gemini wheels of their vehicles. Buying the tires separately would save $2,500 in the United States and $2,800 in Canada.
The Pirelli Sottozero winter tires have long been preferred by Tesla owners as they ensure a good balance between grip and efficiency on wet roads. For Model Y EVs that support 19-inch wheels, Tesla's newly announced wheel and tire package is an attractive option.
Unveiled in March 2019, the Tesla Model Y EV entered the production phase at the company's Fremont plant in January this year and deliveries started on March 13, 2020. Based on the Model 3 sedan platform, it is available in four planned powertrain configurations, viz. Standard Range, Long Range, Long Range with Dual-Motor All-Wheel Drive, and Performance.