Taylor Swift, Idol's David Archuleta in the Lead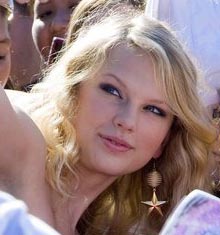 Taylor Swift's second album Fearless (Big Machine) sold 592,000 copies week-ending Sunday, making it the best selling country album since Eagles Long Road Out Of Eden sold 711,00 in its debut week, last year. Not only that, it is the largest sales opening for a female artist in any genre in 2008, just behind Lil Wayne, AC/DC and Coldplay, in fourth place. As well, Fearless also makes the biggest country digital album debut by selling 129,000 copies digitally.
The best sales week for a country album has 18-year-old Taylor Swift debut at No. 1 on the U. S. pop album chart.
Meanwhile, six songs from Fearless will debut on the Billboard Hot 100 singles chart, led by Love Story as the No. 1 country single and White Horse that featured on the season premiere of Grey's Anatomy at No. 13, giving Swift six Top 20 debuts in 2008.
The next three slots on the Billboard 200 album chart were also debuts, with American Idol runner-up David Archuleta at No. 2. Enya's first holiday album, And Winter Came debuting at No. 8. Christina Aguilera's Keeps Gettin' Better at No. 9 and T. I.'s Paper Trail falling to No. 10. Seal's R&B album Soul stands at No. 13, Now That's What I Call Music album at No. 32; and producer David Foster's all-star live set Hit Man at No. 46.