Tata Motors launches 'Zest' to revive sagging fortunes
Submitted by Ashok Rawat on Wed, 08/13/2014 - 23:25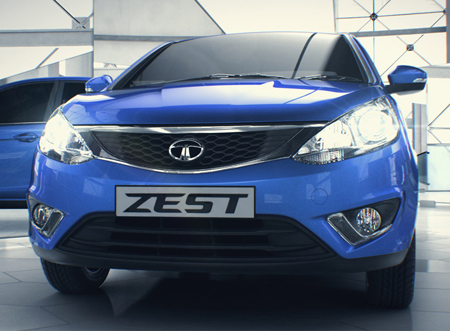 Mumbai /Chandigarh/ Noida, Aug 13 : In a bid to regain market shares and plug losses in its domestic business, Tata Motors began selling its new passenger car 'Zest' since yesterday, its first offering in four years.
The Zest is a compact sedan built on a new platform and, in a departure from previous models, boasts user-friendly features such as touch screen control panels.
Tata Motors has performed well this year thanks in part to strong sales of its luxury Jaguar and Land Rover vehicles.
Second-quarter data released on August 11 showing strong sales of those vehicles helped triple the company's first-quarter net profit, driving a 7.7 percent jump in company shares in pre-open trading on Tuesday August 12.
"We have a very strong JLR (Jaguar Land Rover) business. I think the results were announced yesterday and it is a strong momentum for the Tata Motors Company," said Tata Motors' head of passenger vehicles, Ranjit Yadav.
But the company's domestic sales have fared less well, falling 39 percent year-on-year in the year that ended on March 31. Tata's market share has also dropped to 4.2 percent at June-end from 10.2 percent two years earlier, industry data showed earlier this month.
While Tata dominates the trucks and buses segment in India, its passenger cars have failed to lure customers away from local rival Maruti Suzuki Ltd and foreign competitors including Hyundai Motor Co and Honda Motor Co.
The company has struggled to banish an image that its cars are not cool because they are used as taxis and also due to the legacy of its ultra-cheap Nano, perceived as a poor man's car.
"We believe that Zest will be very strong in the market place and do very well," Yadav said at the launch of the car.
"The factory gate price in Delhi, before taxes, for the base level, petrol variant of the Zest is Rs 4,64,000 (USD 7,593), while the top-end variant costs Rs 5,99,000", said Yadav.
The car is priced lower compared to compact sedan models sold by rivals Hyundai Motor Co, Honda Motor Co and Maruti Suzuki India Ltd.
"We are targeting the personal customer, we are targeting people who are looking for a vehicle which performs and are looking for delight in performance. We are looking for customers who look for value," added Yadav. (ANI)
Technology Sector