Taiwan to rush aid and rescue teams to China's quake-hit region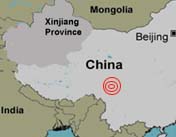 Taipei - Taiwan said Monday it was ready to send aid and rescue teams to China's Sichuan Province which was hit by a strong earthquake killing nearly 10,000 people.
Incoming President Ma Ying-jeou said he was very concerned about the quake and has asked the incumbent Taiwan government to rush aid and rescue teams to the region. Ma will be inaugurated on May 20.
"Ma said that although details of the quake are not clear yet, he thinks the golden rescue time (72 hours after the quake) is vital. He is urging the incumbent government and civic groups to rush aid and rescue team to the quake region," Ma's office said in a statement.
"Ma is not the president yet, but he is willing to help coordinate the incumbent government's relief effort," the statement said.
Ma's political party, the Chinese Nationalist Party (KMT), sent a message to the Chinese Communist Party, saying KMT was willing to send relief material.
Meanwhile, Taiwan's Buddhist group the Tzu Chi Foundation said it is evaluating the extent of damage in China's quake-stricken region to decide how to send aid.
Tzu Chi (Compassionate Relief), founded by Master Cheng Yen in 1966, is the world's largest Buddhist relief organization.
It has branches in more than 40 countries, with 10 million members and 500,000 volunteers carrying out social, education and relief work all over the world.
Taiwan's Tourism Bureau has instructed Taiwan travel agencies to stop sending tours to Sichuan province and advised tour groups in China not to go to Sichuan.
There are some 2,360 Taiwan tourists in Sichuan, but most of them are safe and waiting to be evacuated.
The quake, measuring 7.8 on the Richter scale, struck Wenchuan County, 160 kilometres from Chengdu, capital of Sichuan province, at 2:28 pm (0628 GMT) and could be felt as far as Southeast Asia.
As of Monday evening, the death toll had climbed to nearly 10,000, including hundreds of students at a middle school who are feared to have buried alive when the building collapsed. (dpa)