Suzlon Arm Receives Orders For 200 MW Wind Power Capacity
Suzlon Energy Ltd has announced that its US-based arm has received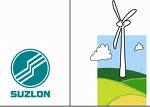 orders for 200 MW capacity turbines for wind farm projects in China.
The subsidiary company, Suzlon Energy (Tianjin) Ltd (SETL) stated that the order was in two parts.
The first order received from Ao Lu Jia New Energy Development Ltd, China, for delivering 148.5 MW of wind turbine capacity via 99 units of the S82-1.5 MW turbines for use in three wind farms. Deliveries for the first wind farm are planned for shipment during Q2 of 2008-2009.
The second order from Beifang Long Yuan (North Union) for 50 MW of wind turbine capacity through 40 units of the S64-1.25 MW turbines, scheduled for delivery during the first quarter of 2009-10.
Suzlon offers up total solutions in wind power generation with unified integration of consultancy, design, manufacturing, installation, operation and maintenance services.  It runs in 16 countries including the US, Australia, Belgium, Brazil, Canada, China, Denmark, Germany, Greece, India, Italy, Nicaragua, Portugal, Spain, the Netherlands and Turkey.
Shares of the company, on Thursday, gained Rs 9.7 at Rs 299.5 on the Bombay Stock Exchange (BSE). The total volume of shares traded was 2,581,032.