SparkCharge teams up with Urgently Partners to boost availability of mobile EV charging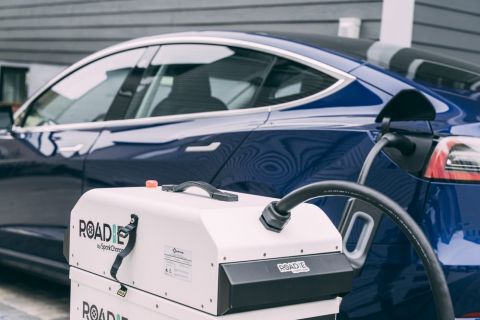 SparkCharge, an automotive startup involved in developing and manufacturing electric vehicle (EV) charging stations, has announced the signing of a commercial partnership deal to boost the availability of mobile EV charging solutions.
Urgently Partners is a roadside assistance & mobility assistance technology firm that came into existence in May 2013. The Vienna, Virginia-based tech firm develops and operates a worldwide digital platform powering roadside assistance solutions for companies in various sectors, including automotive.
Under the newly-signed partnership deal, SparkCharge's Roadie mobile DC fast-charging system will be integrated with Urgently Partner's Smart Mobility Assistance™ platform to bring on-demand mobile DC fast EV charging infrastructure to many more markets than presently available.
Members of Urgently Partners are already enjoying the benefit of mobile services such as towing, jump starting the vehicle, changing of tires, and more. Now, following the deal, they can add emergency roadside fast EV charging service to the list.
Josh Aviv, CEO of SparkCharge, said in a statement that the commercial collaboration with Urgently Partner would help the company achieve its aim of accelerating the adoption of environment-friendly EVs on a global scale.
Commenting on the deal, Aviv said, "We want to accelerate the adoption of electric vehicles on a global scale to create a cleaner, healthier, safer, and more sustainable world. We are excited to welcome Urgently Partner into our network and partner with them to deliver smart mobility assistance with on-demand charging."
Chris Spanos, CEO of Urgently Partner, also praised the collaboration, saying mobile EV charging was among the innovative as well as crucial services that his company identified to support its partners' EV strategies as well as to augment the EV ownership experience for their customers across the country.
A few weeks ago, SparkCharge held its second annual SparkDay event, in which it announced the launch of a new mobile concierge charging service called ChargeUp. The mobile charging service allows EV owners to get their EVs recharged anywhere using the company's RoadieCCS mobile charging system. At the time, Aviv stressed that mobile charging service was essential for the United States to catch up with other countries on the way to electrification of vehicles. The service, which starts at just $25.00 per month, is particularly beneficial for those who live in flats or apartment buildings, where it is not possible to plug in vehicles at home.