S&P Daily Commentary for 4.28.09
The S&P futures left the squeeze of our 1st tier uptrend and 3rd tier downtrend lines today, but unfortunately they moved to the downside.  Market pessimism deepens in reaction to the WHO raising its warning level to 4 while the WSJ reports that both Citigroup and BofA may require more funding after the stress test results are released.  The leak of the results may be hinting that the stress tests will show U.S. financials are in worse shape than we thought, and the financial institutions are making a preemptive move in an effort to avoid a massive selloff on May 4th.  Keep in mind this is just speculation, we are merely trying to put the pieces together. 
On the positive side, the S&P futures are reacting well to our 2nd tier downtrend line with a nice pop as investors eagerly await the release of CB Consumer Confidence data.  Hence, even though negative sentiment is building, the S&P futures still aren't far away from a huge breakout towards 900.  Meanwhile, our 1st tier uptrend and 3rd tier downtrend lines are crawling towards their inflection point, indicating investors may wait for Wednesday's Prelim GDP number before making a serious commitment directionally. 
The Swine Flu surely adds a scary piece to the puzzle.  If the flu were to reach epidemic status, an outbreak could have dire consequences for U.S. equities as the recovery in consumption grinds to a halt.  However, we will have to wait and see how the situation plays out. 
Correlation wise, crude futures are trading all over the place, highlighting the uncertainty in the investment world.  While crude is sliding downwards, the uptrend still has a glimmer of hope.  The EUR/USD and GBP/USD are holding on for dear life as well.  All in all, investors are holding their collect breath with so many variables hanging in the balance.  First thing's first, consumer confidence today followed by GDP and the conclusion of the Fed meeting tomorrow.   
Fundamentally, our 846.5 support turns resistance while we maintain our resistances of 853, 860.75, 867 and 872.75.  To the downside, we hold our supports of 840.25, 833.5, 825.25, and 820 with fresh bottom-end of 811.75.  The S&P futures are currently trading at 847.75.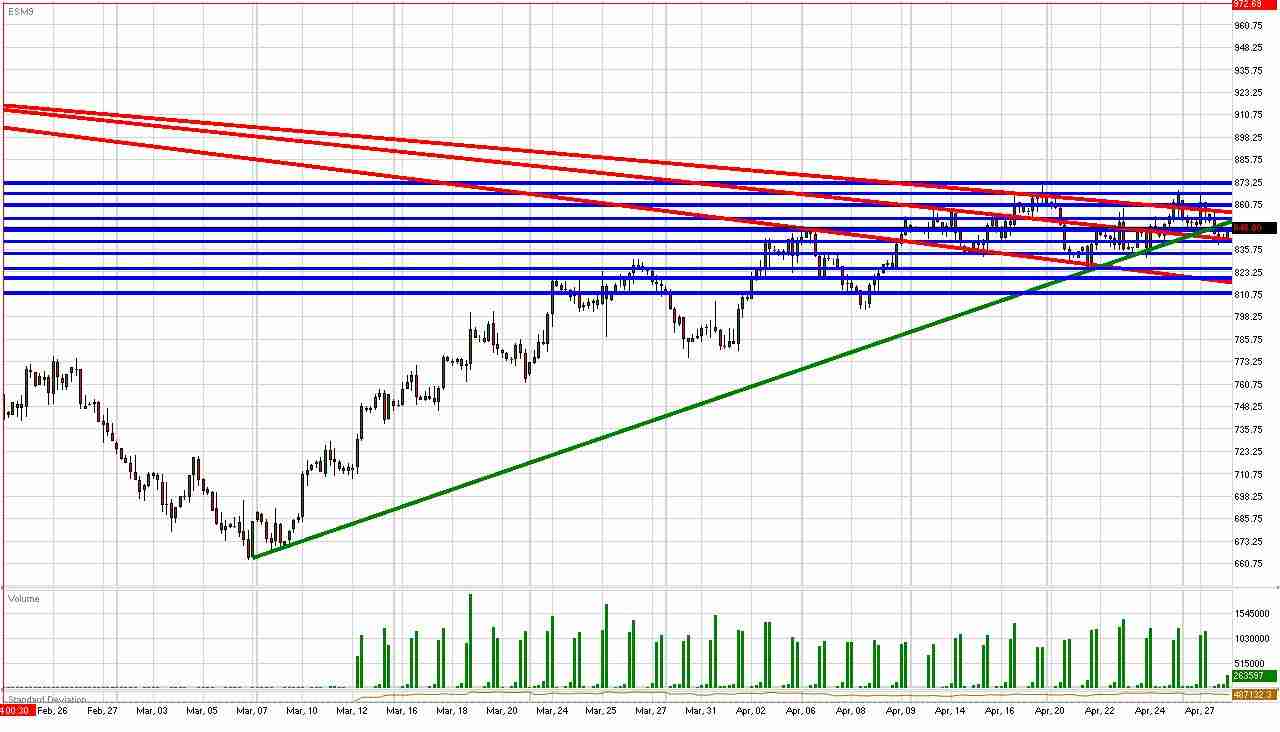 Copyright 2009 FastBrokers, Latest Forex News and Analysis for Forex, Bullion and Commodity Traders.
Disclaimer: For information purposes only. FastBrokers assumes no responsibility or liability from gains or losses incurred by the information herein contained. There is a substantial risk of loss in trading futures and foreign exchange.