Sony Vaio P Series Netbook Unwrapped
Submitted by Darpana Kutty on Sun, 12/28/2008 - 14:40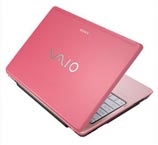 It was reported just a few days back that a Sony Vaio laptop would soon hit the PC market. The details of the new netbook, apparently called Sony P series netbook were accidentally released by the company on its SonyStyle site, after it released the countdown page.
It has been learnt that the netbook has a meaningful name where 'P' stands for Pocket. It can be guessed from here that the netbook might fit into your pocket. It has been further leart that users would be able to avail this net book in three colors, namely crimson red, champagne gold and black silk.
The latest P series netbook features a 8-inch LED screen, 1600x768 resolution, 60GB hard drive Iomega eGo Portable Hard Drive and Windows Vista Windows XP Era Ends Premium or Windows Vista Home Basic in place of Linux, apart from being powered by an Intel Atom 1.33GHz processor.
The details related to the pricing and release date would be revealed at the CES showcase of the laptop in January 2009.