Smith takes a dig at chaos-hit and confused Oz selectors
Submitted by Sahil Nagpal on Sat, 01/03/2009 - 14:56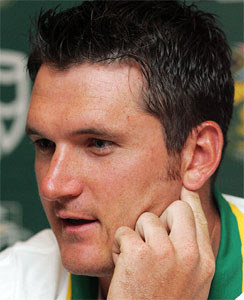 Melbourne, Jan 3: South African skipper Graeme Smith has said that Australian selectors are in chaos and confused and the squad picked for the Sydney Test confirms it.
After Ben Hilfenhaus was chosen to carry the drinks for today's SCG Test, Smith said the Aussie selection panel again had got it wrong by naming left-arm quick Doug Bollinger for his debut.
Tasmania's Hilfenhaus, a right-arm swing bowler, was brought into the squad before the Boxing Day Test and Smith is surprised that New South Wales left-arm quick Bollinger has leapt ahead, the Herald Sun reported.
Smith said the decision was a sign of embattled selectors becoming confused.
"Having Hilfenhaus in Melbourne and now picking Bollinger here, I think probably shows a lack of clarity. From our perspective it just seemed natural that Hilfenhaus would come in. There is obviously a bit of uncertainty there. That has surprised us. Hilfenhaus must be feeling a little bit hard done by," Smith said.
"Providing uncertainty in the opposition camp means you have played well and you have met the challenges . . . we will probably take that as a little feather in the cap from our trip.
"It has been interesting to watch, the lack of patience. It is important as a leadership group to always provide direction for your team and that is going to be Australia's challenge going forward," he added.
Former Test allrounder and West Australian coach Tom Moody also criticized the selectors, questioning their decision to stick with struggling opener Matthew Hayden.
Chairman of selectors Andrew Hilditch has been heavily criticised for making some controversial decisions in recent months - such as picking a hobbling Andrew Symonds for the MCG Test.
In October Hilditch was under attack from some sections of the cricket fraternity, accused of undermining the career of spinner Beau Casson by leaving him out of the India tour after he had made a promising Test debut in the West Indies.
Victorian allrounder Andrew McDonald will join Bollinger in making a debut in the third and final Test - a dead rubber - as Australian skipper Ricky Ponting hailed their inclusions a part of a "fresh start" for the team. (ANI)
Technology Sector