Slovenia-Croatia border row stokes NATO worries in Albania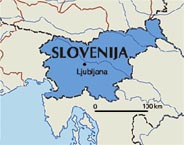 Tirana - A border dispute between Slovenia and Croatia is stoking fears in Albania that its own accession to the North Atlantic Treaty Organization (NATO) may be slowed as a result, local reports said Monday.
Slovenia and Croatia are at loggerheads over their border at the Bay of Piran, and with it access rights to the Adriatic Sea.
As a result, nationalist parties in Slovenia, which as a member of NATO is required to approve new accession, are attempting to force a referendum on Croatia's imminent membership of NATO.
The deadline for collecting the necessary 40,000 signatures is March 26 - three days after the March 23 deadline for admitting both Croatia and Albania to NATO, leaving their fate uncertain.
"We are concerned. We follow this development in Slovenia with great concern," the chairman of the Albanian parliament's foreign policy committee, Prec Zogaj, said Sunday night.
Slovenia is already stonewalling talks on Croatia's attempt to join the European Union over the dispute, and ultimately - like all 27 EU members - holds a potential veto on new members.
Croatia is expected to become the 28th member of the EU, joining by 2011, whilst Croatia and Albania were both offered NATO membership at the Bucharest summit last year.
Although opinion polls suggest the nationalist parties are unlikely to reach the referendum target, the position is still unclear.
The NATO summit in Bucharest also stopped short of offering membership action plans to Ukraine and Georgia due to their disputes with Russia,, whilst another Balkan country hoping for NATO membership, Macedonia, was denied due to a dispute with neighbouring Greece over a Greek region also named Macedonia. (dpa)