Seeking anti-trust immunity in Singapore for Jet deal: Etihad
Submitted by Ashok Rawat on Fri, 06/20/2014 - 22:37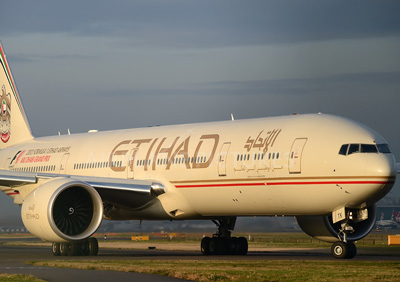 Mumbai: Gulf carrier Etihad Airways, which is under scrutiny from Singapore's fair trade watchdog on its 24 percent stake purchase in the Naresh Goyal-promoted Jet Airways, on Friday said it has already applied for anti-trust immunity in various jurisdictions, including in Singapore.
Etihad's clarification comes a day after media reports said the Competition Commission of Singapore had begun a scrutiny of the deal to probe any possible violation of its competition law.
"We wish to clarify that following Etihad Airways' investment in Jet Airways, both the parties have applied for anti-trust immunity in various jurisdictions, including in Singapore," Etihad said in a statement issued from Abu Dhabi.
"In this regard, the Competition Commission of Singapore is currently evaluating the joint application for anti-trust immunity," the airline said.
The deal has come under the scanner of the Singapore authorities as the alliance "relates to the provision of international air passenger transport services (and associated support services), with a specific focus on the Singapore origin and destination city pairs."
The commission said in a notification that it was seeking feedback from the public and other stakeholders till July 11.
The notification was issued "in relation to Section 34 of the Competition Act of Singapore, which prohibits agreements between undertakings, decisions by associations of undertakings or concerted practices which have as their object or effect the prevention, restriction or distortion of competition within the city-state.
The fair trade commission further said the Jet-Etihad alliance "includes pricing, route and schedule coordination, marketing, code-sharing, networks, customer service and resourcing decisions between the parties.
"The parties envisage that the proposed commercial alliance will result in various efficiencies and synergies. These include lower administrative costs, sharing of joint resources, better customer services and efficient administration of the parties' respective businesses," it added.
The deal, which involves purchase of a 24 percent stake in Jet for about Rs 2,060 crore by Etihad and other tie-ups, has been going through turbulent times ever since it was announced in April 2013.
The Supreme Court, where a PIL has been filed by BJP leader Subramanian Swamy alleging large-scale irregularities by the erstwhile government in clearing the Jet-Etihad deal, has already made it clear that it would quash the deal if there were any irregularities in it. ---- PTI
Technology Sector