Sarbjit Singh's family hopes to celebrate Diwali together at home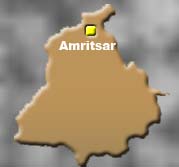 Amritsar, October 6 : Family of Sarabjit Singh, the Indian prisoner in Pakistan jail on death roll, is eagerly looking forward to celebrate Diwali, the festival of lights, together in India.
Despite the meeting of Pakistani Law minister, Farooq H. Naek, with Sarabjit Singh at Lahore''s Kot Lakhpat Jail on Monday, there is uncertainty about his future.
Some reports stated that the Pakistan's Law minister after meeting Sarbjit Singh said that he visited Sarbjit Singh to examine the case and he will convey his news to the President and Prime minister of Pakistan for reviewing Sarabjit's request for clemency on humanitarian grounds.
Sukhpreet, the wife of Sarbajit Singh, meanwhile urged both Indian and Pakistani governments to speed up the procedure to ensure his early release, as he has been lodged for last several years for the crime which he did not commit.
"My husband is innocent. I am praying and hoping that we will be able to celebrate Diwali together this time," Sukhpreet said.
Sarbjit is facing death sentence since 1990 and has been facing terrorism charges. His family, however, claims that he has become a victim of mistaken identity.
Sarabjit was to be initially hanged on April 1, but former Pakistani President Pervez Musharraf deferred his execution. (ANI)