Rivian recalls over 500 all-electric R1T pickup trucks to fix airbag "child" sensor issue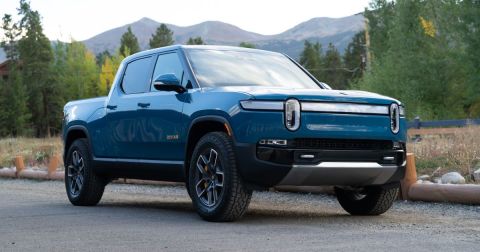 American electric vehicle automaker & automotive technology startup Rivian Automotive has confirmed that it has issued a recall for more than five hundred units of its R1T all-electric pickup truck to fix a technical glitch with a seat sensor. The electric vehicle manufacturer headquartered in Irvine, California, has witnessed a massive decline in stock market valuations after listing.
In the R1T pickup, the seat sensor is responsible for deactivating the airbags when a minor/child is sitting in the seat. However, the technical glitch found in the sensor may prevent it from deactivating the airbag in the way it should.
The concern prompted the automaker to recall 502 units of its R1T electric pickup trucks. The automaker, though, is not aware of any accidents, injuries, or deaths caused by the technical issue.
While mail notifications will likely not be sent to R1T owners until 1st of July this year, the EV maker will start reaching out via other means at the earliest possible. A senior company official explained that those who are not contacted and they believe that they should be can visit the National Highway Traffic Safety Administration's (NHTSA's) recall website to do a VIN lookup. The official also confirmed that passenger seat replacements, if required, will be made free of charge at the company's authorized service centers.
In a recent statement, Rivian said, "In the event of a crash which deploys the front passenger airbag, a seat with this improper calibration may increase the risk of injury for any child or child seat occupant sitting in the seat. We are contacting those with affected Rivian vehicles, and they will receive a passenger seat replacement free of charge at a Rivian service center."
According to information related to the recall, a system for classifying vehicle occupants was inappropriately calibrated and a supplier manufacturing defect is the cause of the defect. As the calibration is not correct, the impacted R1T pickup trucks' do not comply with Federal Motor Vehicle Safety Standards related to the protection of occupants during an incident like crash.
The manufacturer also warned that in the meantime, R1T owners should not place infants and children in the front passenger seat of affected EVs until a front passenger seat replacement is complete.
It is Rivian's first official recall since it started delivering the all-electric pickup truck to customers last year. The recall applies to the Rivian R1Ts from the 2022 model year. However, merely those manufactured between September 21, 2021 and April 12, 2022 are potentially impacted by the technical glitch.