Rising fuel prices have come down during NDA regime, claims Rajnath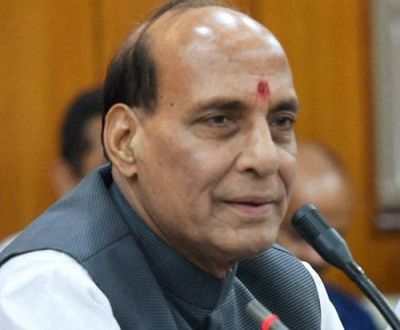 Bhaderwah (Jammu and Kashmir), Nov 19 : Union Home Minister Rajnath Singh on Wednesday said fuel prices kept rising under the previous UPA regime, whereas under the incumbent BJP-led NDA, they have fallen consistently.
Singh asked, "Isn't it true that there has hardly been any month which did not witness a hike in fuel prices during the previous government's rule? Isn't it true that for the first time, petrol and diesel prices are coming down every month after the new government came to power?"
He was addressing a rally here in the run-up of state assembly elections to be held from November 25 in five phases.
Singh further stated that the BJP-led government at the Centre has been able to keep inflation under check.
"We have brought down inflation in the last six months of our governance. During our rule, even petrol and diesel rates have come down. In the next one year, we will surely bring down inflation, it isour pledge," he said.
The Home Minister further alleged that Islamabad has not undertaken any development work in Pakistan-occupied Kashmir (PoK), and accused the latter of disrupting peace at the border by indulging in ceasefire violations.
'I believe that PoK is still a part of Jammu and Kashmir. Pakistan always talks about the Kashmir issue on the international arena, but if you see PoK, Pakistan has done no development there," he said.
The Election Commission had last month announced five-phase polling in Jammu and Kashmir beginning from November 25. The elections in the state will take place on November 25, December 2,
December 9, December 14 and December 20. The counting of votes will take place on December 23.
The term of the 87-member Jammu and Kashmir Assembly expires on January 19, 2015. (ANI)