Real or fake? Lucrative trade in imitation Ferraris, Bugattis
Hamburg -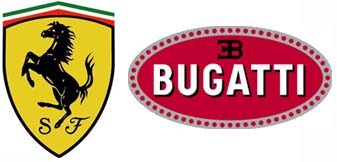 In an operation dubbed "Red Passion" Italian police earlier this year launched a nationwide crackdown on secret workshops manufacturing imitation Ferraris, confiscating 14 finished cars and eight more under construction.
Acting on a tipoff from Ferrari's headquarters in Maranello, police eventually seized more than a dozen suspects across the nation. But experts agree that this is only the tip of the iceberg with thousands of imitation classics from the 1960s and 1970s manufactured by secret workshops all over the world.
Millions of dollars are being paid at auctions for rare vintage cars from the 1920s and 1930s. Pristine classics from the 1960s like the Mercedes Benz 300SL Gullwing, Ferrari Daytona and Aston Martin DB 4 fetch about half a million euros at auction houses.
The global collectors' car market worth 14.5 billion euros (22.7 billion dollars) is booming as more and more wealthy investors from Russia, China and India are entering the market and other investors are seeking alternatives to the current uncertainties of the stock and property markets.
If a car was owned by a famous person or has a racing history, it can be particularly valuable.
"These motoring icons can be compared to works of art and it is the same buyers' market which seeks a return on investment," says Thomas Frank of Audi Tradition in Ingolstadt, Germany.
Last year, Christie's announcment that was auctioning the most expensive car in the world - one of the last two 12-cylinder Auto Union D-Type Grand Prix race cars of 1939 triggered huge media interest. Ath an estimated price of between 8.8 million and 12 million euros, the auction was set for February 17 in Paris at 18.30 hours at Christie's stand at the Paris Retromobile.
But then Christie's suddenly withdrew the auction after it emerged that the car put on sale was not a Grand Prix winner with the chassis 21, but a car rebuilt on the basis of chassis number 19. It came fifth and sixth and was thus a Grand Prix participant but not a winning car.
"When we saw the Christie's catalogue, we immediately realised that the facts could not be correct," according to Frank from Audi Tradition. The Audi museum is in possession a 1939 Auto Union Type D racing car but emphasizes that it is a complete rebuild based on original plans and documents.
"What can only be said with some certainty is that the car put up for auction was based on the chassis No 19," Frank said. According to Audi's information, the car is still in possession of the owner who offered it to Christies.
Germany's news magazine Der Spiegel recently reported that a U. S. citizen Gene Cesari had travelled from Vermont to the southwestern German city of Heilbronn to buy two Bugattis - a 1929 and 1934 Type 35B and 43 for a price of 654,500 dollars.
After wading through a load of certificates and documents Cesari, a historian, signed the deal only to learn later that the two rarities were in fact replicas sold as genuine Bugattis.
In an out-of-court settlement the buyer got most of his money back. However, that did not prevent the seller from later offering the same vehicles on the Internet in an advert titled: "1929 Bugatti T43."
Pur Sang, an Argentine company, specialises in building Bugatti Type 37, 35, 43 and 51 replicas that can hardly be distinguished from the real thing. They are sold as replicas but some buyers obviously have no problem adding the Bugatti badge and declaring it "original".
According to the Mercedes Benz Veterans' Club (MVC) in Germany, only between 31 and 33 pre-war Mercedes SSK race cars were ever built.
But it is an open secret in the vintage car scene that there could be as many as 120 Mercedes SSK around, most of them replicas. Built between 1928 and 1932, the super-charghed 300hp Mercedes SSK has a top speed of 200 km/h and was the fastest car in its day with race legends like Rudolf Caracciola at the wheel. Today the car fetches prices of about 6 million euros at auctions.
But it is not only the super rich who are after such rarities. Good classic cars with a low mileage from the 1960s and 1970s start at prices of about 20,000 euros and are also seen as a good investments by many medium to high-income professionals with prices increasing between ten and 15 per cent annually.
But even in this market buyers are warned. US muscle cars are especially easy to fake because they did not have specially stamped numbers in their identifications. Spare parts are readily available which make a complete rebuild possible. Only an expert can find out whether a good-looking 1967 Corvette, Shelby Cobra or Pontiac GTO is really genuine.
The fake Ferraris seized in Italy were in fact based on used Pontiac Fieros which were apparently ideally suited as a basis for a Ferrari Testarossa. (dpa)