Rare psychological story from Polish political film director
Submitted by Kiran Pahwa on Wed, 01/28/2009 - 14:41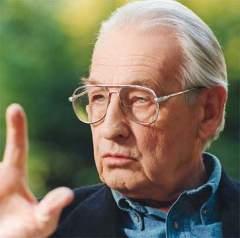 Warsaw - Best known for films heavy in history and politics, Polish director Andrzej Wajda says his film that it is to premiere at this year's Berlin Film Festival is a goodbye to that genre, and to the past.
Sweet Rush (Tatarak), which will have its world premiere in Berlin, is the 38th film from the director who has chronicled his country's painful Nazi occupation and communist past.
The first half of Sweet Rush is adopted from a story by Polish writer Jaroslaw Iwaszkiewicz about an aging doctor whose routine life is shaken when she meets a younger man. The second is based on the writings of novelist Olga Tokarczuk.
And while Sweet Rush won't be Wajda's first politically neutral work, it is a rare departure from the resistance films that made him famous.
Wajda's last film told the tragic story of Katyn, when Soviet forces in 1940 killed some 20,000 Polish officers and intellectuals.
One of the victims was Wajda's own father, who left home in 1939 and never returned from the battlefield.
Censorship in then communist Poland didn't allow Wajda to inscribe "killed in Katyn" on his father's tomb, but he later immortalized the event in the 2007 Oscar-nominated film.
Like many of his other works, Katyn mixed tragedy and heroism in stories close to Polish hearts and made better-known to audiences abroad.
Tatarak, however, will centre around a love story, and is taken from an Iwaszkiewicz work that some compare to French novel Madame Bovary.
"After Katyn - a political film - I wanted to return to psychological cinema," Wajda recently said, "centring on the woman as subject.
Born in 1926, in the northern Polish town of Suwalki, Wajda traces his roots to a rural, but educated family, before war interrupted the "pastoral life" of childhood, he said.
He attended Krakow's Academy of Fine Arts, but later chose cinema over art to attend communist Poland's only film school. The Lodz Film School was meant to educate a generation of socio-realist filmmakers, and was also director Roman Polanski's alma mater. But in his time there, Wajda was more inspired by the French avant-garde films his professor had brought from Paris.
Many of his first films portrayed resistance fighters in Nazi-occupied Poland: the Warsaw fighters who hid and manoeuvred in the capital's sewers before launching attacks, for example, or the escaped prisoner of the Jewish ghetto who later preferred life among his own people than the comforts outside.
In 1981, Wajda chronicled Poland's Solidarity movement, the labour union lead by Lech Walesa that later helped topple communism, in the movie Man of Iron.
The movie won the Palme d'Or at Cannes, but Wajda's involvement in Solidarity prompted authorities to shut down his production company.
Shown in select theatres for a limited time, Man of Iron was released at a time when many had given up hope of an independent Poland. Some had grown tired of resistance stories.
In Radom it played to a full house that applauded for the duration of the credits, one former Solidarity member who attended said. The authorities played at loosening and tightening the screws by allowing it to be shown at all, and afterwards there was a feeling "of having seen something that might not be available tomorrow.
"We only wanted to expand a little the limits of freedom, the limits of censorship ..." Wajda has said. "We never hoped to live to see the fall of the Soviet Union, to see Poland as a free country.
Like Man of Iron, Katyn also drew comments that everything on the events has already been said. But in both works, Wajda passed down history in films that sparked debate and united Poles around their common past. (dpa)