PTC Achieves a Record High with Fund Recommendation
Today, PTC India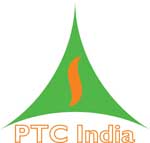 zoomed 10.23% to Rs 98.60, expanding its surge over the past few days.
The scrip hit a high of Rs 104, which is its all-time high, and a low of Rs 90.40 during the day. It touched a 52-week low of Rs 46 on 13 December 2006.
On BSE, there were 50.4 lakh shares for trading on the counter today. During the last three months, the scrip showed an average daily volume of 2.50 lakh shares.
On an average, about 28.93 lakh shares were traded in the last four trading sessions till yesterday, 18 July 2007, when the stock arose aggressively.
The share price increased 33.33% from the new low of Rs 67.05 on 10 July 2007 to Rs 89.40 on 18 July 2007. Over the last one month, the PTC India stock had risen 37.64% to 18 July 2007 as against to the Sensex's return of 7.03%. The existing equity of the company is Rs 150 crore, with 15 crore outstanding shares with a face value of Rs 10 each.
The present market value of Rs 98.6 brushes off its FY 2007 earning per share (EPS) of Rs 2.34 by a PE multiple of 42.13.
According to the reports, private equity major Blackstone, Saloman Brothers and Goldman Sachs are making discussions with PTC to pick a 49% stake in its unlisted finance arm PTC Financial Services (PFS).
On 27 June 2007, the company stated that it would raise Rs 1,200 crore via securities issue to support its growth plans. The company's board had sanctioned the offer and it is subject to shareowners authorization at the annual general meeting slated in September 2007.
PTC's main activity is to supply power trading services through purchase from surplus utilities and sales to deficit ones. It catalyses the progress of power projects and also is the distinguished nodal group for cross border power trading and exchange with the bordering countries. It has cross border operations in Nepal, Bhutan and Bangladesh.