Potential Motors' Adventure 1 Mini Overland EV Van comes loaded with unique specs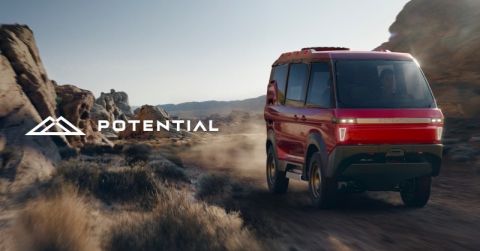 Potential Motors, an electric off-road vehicle startup with focus on electric adventure UTVs, recently announced the public debut of its new Adventure 1 electric van-like UTV at Overland Expo East in Arrington, Virginia.
Months after showing just renderings and prototypes of the Potential Motors Adventure 1 all-electric UTV, the company has now unveiled the production-ready model and shared more information about what the EV is capable of.
The unique Potential Motors Adventure 1 off-road electric mini overlanding van can take you where few other vehicles can, thanks to its ability to tackle with rough terrain.
Its main specs include 604 horsepower, 737 ft-lbs. of torque, 100 miles of off-road driving range on a single charge, 2,550 liter interior volume (90 cu. Ft.), 12.9-inch ground clearance, 40-degree approach angles, 29-degree breakover angle, and 45-degree departure angle. In dimensions, the EV measures 64 inches in width and 178 inches in length, with wheelbase of 105 inches.
The electric UTV has an integrated deployable full-size bed. Riders can sleep anywhere to enjoy comfortable sleep. The bed can be seamlessly folded and zipped into a waterproof, dustproof compartment that keeps the bedding dry even in wet seasons.
Describing the unique EV, Potential Motors states, "When not being driven, the Adventure 1 can act as a flat-towable trailer or basecamp for your adventures. Camp anywhere, stores anything, adventure further. And its tow-charging capabilities mean you'll be ready to ride the moment the road ends."
The innovative control system of the vehicle scans the trail and makes use of a curated sensor suite to proactively adjust torque and suspension to ensure an optimal, smooth ride. As per the manufacturer's claims, the Potential Adventure 1 is an extremely agile EV, capable of running through even tough off-road terrain. Beyond active suspension, the vehicle has proactive suspension that enables it to adjust damping and stiffness proactively for ensuring maximum performance and comfort in almost any sort of conditions.
The Adventure 1 was originally designed to be towed behind a larger vehicle like an RV. As it has a weight of around 4,000 pounds, one would need something like a Tesla Model X, which has a towing capacity of up to 5,000 pounds.
Priced at $136,600, the quite unique Adventure 1 off-road electric mini overlanding van will likely be delivered to pre-order holders sometime in early 2025. A reservation order can be placed with a fully-refundable deposit of $2,000.