Piggy Chops celebrates 'unbreakable' spirit of Marry Kom in Mumbai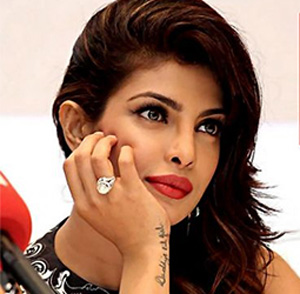 New Delhi, August 14 : Priyanka Chopra, along with Indian filmmaker Omung Kumar and producer Sanjay Leela Bhansali, promoted her upcoming film, which is a biopic on Mary Kom, in Mumbai.
The 'Don 2' actress mentioned the similarities between her and the Indian boxing champion and said, "We have a lot of similarities in terms of our upbringing, in terms of where we come from. And the fact that we are two women who stood alone in a very male-dominated field but more than that she as a person, is someone who is feisty, stands up for her rights and fights for what she believes in and I think that's not just an inspiration for me but will be for every young person out there who feels that I have a dream and I won't let my dream remain small".
Even Kom, who is five-time women's world boxing champion and Olympic bronze medalist, praised the former Miss World for portraying her role on-screen and said, "I wanted that she should have muscles like me, she should be fit and strong. This was my dream about whoever playing my role. I am very happy that Umang sir and Sanjay Leela Bhansali sir, they are choosing a right person, perfectly".
At the event, the 'Barfi' actress even sang a song from her movie which is set to release on September 5. (ANI)