Parents of 2002 Russian air collision victims seek damages in Spain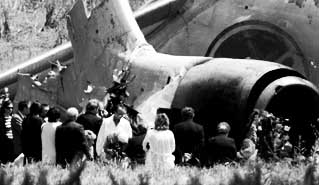 Barcelona - The families of 30 Russian children who were among the 71 victims of a mid-air collision in 2002 are seeking 600 million dollars in damages at a Spanish court, judicial sources said Wednesday.
The Tupolev 154 passenger jet of Bashkirian Airlines and a Boeing 757 cargo plane collided over Germany, killing the 71 people aboard both aircraft.
The victims included 45 children who were going on holiday in Spain as a reward for their achievements at school.
Relatives of the dead children are suing the aircraft security systems makers Honeywell and ACSS (Aviation Communication and Surveillance Systems) at a Spanish court.
Because the plane was en route from Moscow to Barcelona, the parents of 30 of the children are seeking damages at a court in the Spanish city, sources said after the trial held its final session on Wednesday.
The victims' families claim that a failure of the Tupolev's traffic alert and collision avoidance system (TCAS) contributed to the accident.
A Barcelona court recently sentenced Bashkirian Airlines and its insurance company to pay 20,400 euros (26,400 dollars) to each of the victims' families, but both companies had gone bankrupt and were unable to pay, the sources said.
Despite the planes being over Germany, the airspace was controlled from Switzerland.
In a further tragic twist to the saga, in 2004 a Russian who lost his wife and two children in the accident murdered the air controller who had alone been responsible for the entire traffic in the Zurich airspace at the time. (dpa)