Obama lauds Mandela's contributions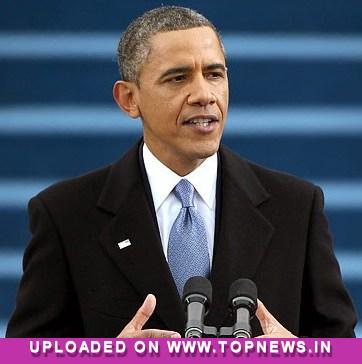 Pretoria, June 29 : Visiting US President Barack Obama Saturday lauded anti-apartheid icon Nelson Mandela for his outstanding contribution to South Africa, saying he has been a personal inspiration and continues to shine as a beacon of hope.
It was "great" to see what was happening in South Africa, when so many other regions were divided by conflict and disputes, Xinhua quoted Obama as saying after talks with his South African counterpart Jacob Zuma.
Obama wished a quick recovery for the 94-year-old Mandela, who spent his 22nd day in hospital for a recurring lung infection.
Stating that Mandela has been a personal inspiration to him, Obama said: "Our thoughts are with Nelson Mandela and his family, and all of South Africa."
Mandela's condition remains critical but stable, after showing some improvement in the past two days, according to Zuma who issued the latest update on Mandela's health after talks with Obama.
In a televised press conference with Obama, Zuma said the government hopes that Mandela will be out of hospital soon.
"We hope very soon he will be out of hospital," Zuma said.
Obama said the outpouring of love for Mandela has showed what he meant to South Africans and the world.
Earlier, Obama held talks with Zuma on a wide range of issues, including trade, investment opportunities, the US commitment to Africa and democracy in Africa.
"Our talks have taken place against the background of the ill health of our beloved former president Nelson Mandela, the founding president of our democracy who is much loved by our people and the world," Zuma said.
Zuma said Obama and Mandela are also bound by history, as the first black presidents of their respective countries.
Obama said he will meet Mandela's family but not Mandela himself. He said he did not want to be "obtrusive" when Mandela is in hospital.
Obama arrived Friday on a three-day official visit, his second to South Africa and the first as US president. He came from Senegal and will continue to Tanzania after South Africa.(IANS)