Now, Carmen Electra defends Jessica Simpson's 'curvy' figure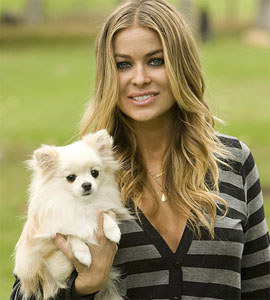 London, Feb 4: Carmen Electra is the latest star to join the likes of celebrities who have come out to defend Jessica Simpson's recent `curvy' stage appearance.
Simpson faced flak from fans and critics alike after wearing a very unflattering outfit at a gig last week.
However, sexy Carmen Electra has claimed that Jessica looks as hot as ever.
"She''s a gorgeous girl. A lot of women would die to look as good as she looks," The Sun quoted Carmen as saying.
She added: "There's going to be moments where people don''t necessarily like your look or what you''re wearing, and that''s okay.
"Next week, she''ll rock some outfit that will blow everyone away."
Others to speak up in Jessica's favour include sister Ashlee, Pete Wentz, Paula Abdul and now ex-hubby Nick Lachey.
"I wish her nothing but the best and I hope she''s happy - whatever size that comes in," said Lachey. (ANI)