Navy given charge for complete overhaul of coastal security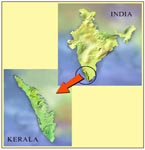 Kochi, Feb 28 : To enhance security and maintain the supremacy of the country in wake of the Mumbai terror attacks and to minimize threats from the sea, the Government has completely overhauled coastal security by designating the Navy as the nodal authority responsible for overall maritime security.
The Coast Guard, the State Marine Police and state agencies will assist the Navy in maintaining maritime security, which includes coastal and offshore security.
The Navy has been given overall charge in the back drop of multiple agencies being involved in coastal security and the resultant problem of coordination and passage of intelligence inputs etc.
Union Defence Minister A. K. Antony announced that joint operation centres (JOCs) would be set up at Mumbai, Vizag, Kochi and Port Blair under the charge of Naval commanders-in-chief.
The JOCs will jointly be manned and operated by the Navy and the Coast Guard with inputs from diverse central and state government agencies, Antony told reporters at the Cochin Shipyard Limited.
The Defence Minister said that the Mumbai attacks have shaken the entire nation and brought out the need for strengthening coastal security as threats are increasing day by day from the sea.
A national command control communication and intelligence network, for real time maritime domain awareness between the operations rooms of the Navy and the Coast Guard, both at the field and the apex levels, will be established.
"The Navy will control all Navy and Coast Guard joint operations. This will ensure that the assets are optimally deployed and there is synergy between the two organisations. With these measures, the government is expecting that a new focus would be given for effectively managing threats from the sea and security for our over
7,500 km long coastline," Antony said.
The Coast Guard would also get a new regional headquarters in Gujarat to look after surveillance on that state's coast.
Antony said the government has approved the setting up of nine additional Coast Guard stations to integrate them into the `hub and spoke concept' with coastal police stations along with manpower.
These stations will be located at Karwar, Ratnagiri, Vadinar, Gopalpur, Minicoy, Androth, Karaikal, Hutbay and Nizamapatnam. The intelligence set up of the Coast Guard is also being improved with adequate manpower resources. (ANI)