Natural gas will flow after Ukraine pays: Russia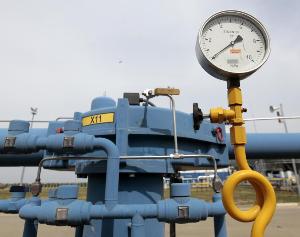 Moscow: Russia will resume shipping natural gas to Ukraine after Kiev pays off its first debt installment for past supplies of gas next week, officials said on Friday.
Alexei Miller, chief of Russia's state-controlled Gazprom natural gas giant, made the statement hours after Russia, Ukraine and the European Union thrashed out a USD 4.6 billion deal that will guarantee Russian gas supplies to Ukraine and further on to the EU.
The deal eased fears that Europe will end up shivering this winter like it did in 2009, when a spat over Ukraine's gas bill prompted Russia to cut off energy supplies to Europe for nearly two weeks.
The leaders of Germany, France, Russia and Ukraine hailed the deal in a conference call Friday as an "important step toward ensuring uninterrupted gas transit to Europe," the Kremlin said.
Moscow had cut off gas supplies to Ukraine in June over unpaid debts, a move that followed the ouster of Ukraine's Russia-friendly leader and the Kremlin's annexation of Crimea in March. Talks dragged on for five months amid fighting in eastern Ukraine between pro-Russian insurgents and government troops. But the looming onset of winter a fierce, freezing season in Ukraine had given the talks increasing urgency.
Miller said today that Gazprom expects to receive the first Ukrainian tranche of USD 1.45 billion before the end of next week and will start gas supplies to Ukraine within 48 hours after getting the money. Under the deal, Ukraine has pledged to pay the rest of its USD 3.1 billion gas debt before the year's end and also to pay in advance for Russian gas supplies through March.
Ukraine will pay USD 378 per 1,000 cubic meters of Russian gas until the year's end, and the price is expected to fall slightly in the first quarter of next year.
Ukrainian Foreign Minister Pavlo Klimkin said Ukraine aims to buy four billion cubic meters of gas from Russia over the next two months. He called the agreement sealed in Brussels "provisional."
"We sorted out a number of issues, including the price, but only for this temporary deal," Klimkin said. "It should provide enough safety and security for gas supplies this winter."
Klimkin said Ukraine will pay in advance on a monthly basis for the gas it buys a flexible arrangement that also allows Ukraine to purchase additional gas if needed.
(PTI)