Mystery gas in Ukraine bomb shelter kills three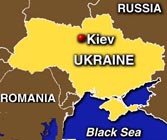 Kiev - An unidentified gas in an abandoned Ukrainian bomb shelter killed three people and left five others hospitalised, the Interfax news agency reported Thursday. The accident took place on the outskirts of the Black Sea port city Sevastopol, on the site of World War Two-era fortifications.
Two of the dead were a pair of youths who had broken into a bomb shelter in Sevastopol's Malakhov Kurgan suburb during the night.
Home-made torches carried by the boys may have contributed to the deaths, officials at Ukraine's Ministry of Emergency Situations said.
The first person to discover the boys, a Sevastopol city policeman, also was overcome by unknown fumes in the bomb shelter, and died.
Five rescue workers called to the scene by the policemen suffered inhalation injuries and were receiving treatment at a Sevastopol hospital.
The two boys were 13 and 14 years old. The policeman was 24 years old and is survived by a 4-year-old daughter.
Initial checks on the air in the bomb shelter showed low levels of oxygen and the possible presence of a toxic chemical, said Ihor Krol, a government spokesman.
The Crimean city Sevastopol was the site of a 250-day siege during 1941 and 1942.
Abandoned fortifications and underground galleries from the intense Second World War fighting are still to be found within Sevastopol, and especially in the mountains outside the city.
Construction workers and farmers working near Sevastpol often uncover artillery shells, either concealed in lost storage bunkers, or buried after failing to explode. (dpa)