MS Dhoni a far better keeper than he showed at Lord's, says Farokh Engineer
Submitted by Narinder Hans on Wed, 07/23/2014 - 23:20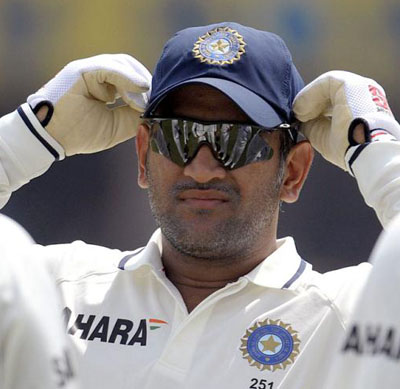 London: Former Indian wicket-keeping great Farokh Engineer has questioned skipper Mahendra Singh Dhoni`s ploy to stand back against spinner Ravindra Jadeja during the second Test at Lord`s.
India won by 95 runs to take a 1-0 lead in the five-Test series against England.
"Standing back to Ravindra Jadeja didn`t make sense at all," said Engineer.
"I just couldn`t fathom why he was doing so. There were times when the other fielder behind the wickets, Virat Kohli, was standing next to Dhoni and it looked like there were two wicket-keepers in there. I have never seen anything like this in international cricket. It was baffling and mind boggling. He is a far better wicket-keeper than he showed at Lord`s."
After the match, Dhoni had gone on to explain this particular ploy.
"Actually I wanted to have a fielder there (behind the wicket on leg-side). But according to the rules, you can`t have three fielders there. So I wanted Virat to stand slightly wide from where he was standing because anything like a snick or a faint edge on the leg side would have gone between me and him. So the plan was to stand behind and cover that," he had said.
The game has really changed in the current scenario and it is more about what suits you at this point of time," he had added, when asked if this move was in sync with proper wicket-keeping.
Clearly, one classic-era wicket-keeper counted amongst one of India`s best behind the stumps, didn`t really appreciate it.
"I am a huge fan of Dhoni. He reminds me of my own playing days, my own cricket," said Engineer.
"But that reasoning is not valid. What would he have done if he was keeping to Bhagwath Chandrasekhar who used to give the ball a rip without too much rough on the wickets? Thank God he never kept to that legendary leg-spinner."
"Of course there was rough at Lord`s pitch, have you ever seen a pitch without some rough areas on day four and five. But was it a lack of confidence that he couldn`t stand up to stumps and catch them? In fact if I compare from the 2011 series, he has really improve his wicket-keeping skills.
"So this standing back to the spinner was absolutely unnecessary in what was otherwise a magnificent win," he added.
Indeed, for India won their first-ever Test at Lord`s since 1986. It was only their second win ever in 17 attempts at this hallowed ground. In fact India have only won six Tests out of 54 matches played in England since they first toured in 1932.
For someone who was part of the historic 1971 side that won its first-ever Test and then the first-ever series victory in England, Engineer knows how rare Test victories are in this country for any Indian team.
"It was a really happy day for Indian cricket," said the rank old-timer about a young Indian team`s triumph at Lord`s.
"Dhoni has been a fantastic captain over the years. He is India`s most successful captain and he is doing a wonderful job leading this young Indian team. I have been very impressed with Rahane, Bhuvneshwar Kumar and Murali Vijay so far on tour."
"All cards were in England`s favour since this Test match began. Right from the time they won the toss and inserted India on a green-top wicket. And then they just failed to take advantage.
"Ajinkya Rahane played a marvellous knock at Lord`s. It doesn`t get better than that innings. He was supported well by the tail-enders and that was the difference between the two sides. India fought back valiantly in that first innings," he added.
Needless to say, England are in trouble. They haven`t won a single Test in the last ten matches played, home or away. Their captain and leading century-maker in the long format is struggling to score runs. Their senior batsmen aren`t scoring runs either. Matt Prior has excused himself and there is a threat of suspension hanging over James Anderson.
"England are very much in trouble. It is a total mess at the moment. They need to change their captain. They need to regroup. They need to select players who can perform in the next Test and the two after that.
"It is a long series. Soon they will be considering rest of their over-worked bowlers and Stuart Broad might need some rest as well (on account of his knee injuries). It is a total mess at the moment," said Engineer.
"And Virat Kohli hasn`t even fired yet. If he starts scoring, he will just pile up the pressure on the England team. Anyone would rather be in the Indian camp at the moment," he signed off. PTI
Technology Sector