More than half of the Gamblers eager to return to Casinos post COVID-19: Survey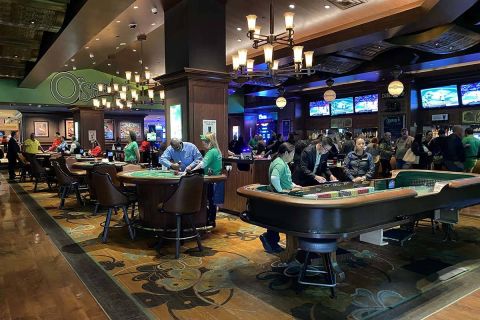 More than half (51 per cent) of the betters/gamblers are willing return to casinos as soon as they reopen their doors after the COVID-19 shutdown order is rolled back, according to a new online survey conducted by Synergy Blue.
The online survey by gaming developer Synergy Blue also indicated that younger gamblers are far more eager than older gamblers to head back to casinos immediately after they are reopened. While traditionally casino customers have been older slots players, most casino guests initially after the reopening of casinos will likely be younger and they would probably be less interested in playing slots.
Sixty-two per cent of the participants under age of 29 years are willing to immediately return to casinos after the lockdown is over, while only 40 per cent of those sixty years of age or older are ready to return once casinos are reopened.
Synergy Blue, which commissioned the online survey, is a Las Vegas-based developer of skill-influenced games. The main purpose of the survey was to provide casino companies with some recommendations to prepare the course for the months ahead. Georg Washington, Synergy Blue's chief executive officer, said that the Corona virus pandemic has hit the casino industry very hard as each and every one of the nearly one thousand tribal or retail casinos having been closed for around two months due to the coronavirus outbreaks.
Releasing the stats, Washington said, "Our goal with this report is to provide the industry with resources and insight into what gamblers would like to see and, more importantly, what they expect from casinos when they return. We're all in this together. And together, we can rebuild our industry."
More than one thousand gamblers participated in the online survey, which was conducted late last month. The participants voluntarily shared their views or answers in an anonymous fashion.
Just as gamblers are eager to return to casinos, entertainment companies like Caesars Entertainment Corp., Island Resort & Casino, and Eldorado Resorts are eager to reopen their casinos. Nevada-headquartered Caesars Entertainment Corp. recently announced that it is moving ahead with its plans to reopen 36 casinos that have been closed since mid of March due to corona virus pandemic. Government officials are keen to bring businesses back into activity but with stern safeguards and precautions in place.