Misconceptions about Second-hand Car Loan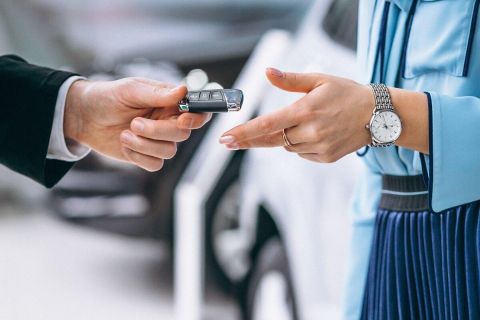 In a country where the word of mouth plays a major role in the decision-making process of many, it is not difficult to spread false information or misconceptions about anything and everything—be it about a famous location, food, or even financial products. So, no surprise that there are many misconceptions surrounding something as simple and beneficial as second hand car loans. Yes, second-hand car loans, which can not only make your dream of owning a car come true but also make it easier on your budget. Today, we will look at some common misconceptions about second-hand car loans.
Cannot Apply with a Co-applicant:
Buying a used car necessitates a significant financial investment that, if not well managed, might exhaust your savings and ruin your budget. Most people keep on deferring their car purchase decision because they cannot fulfil the lender's minimum requirements or because they are informed they cannot apply for a second-hand car loan with a co-applicant.
One of the most popular misconceptions about second-hand car loans is that only one person can apply for this loan. However, the fact is, if you have a low income or credit score but your spouse or other family member has a strong credit profile, adding them to your loan application can do wonders. It will not only make your loan processing smooth but will also help you in getting a low-interest pre-owned car loan.
You Need a Strong Credit Score:
Another widespread misconception about second-hand car loans is that they are only available to people with good credit Score. But, before you believe it, consider this—if someone requests you for funds in exchange for hypothecating their high-value asset, which can easily help you recoup your debts, would you refuse such an offer? The answer is no. Second-hand car loans not only provide the lender with the security of repayment, but they also earn through the interest component.
In a second-hand car loan, the car is hypothecated with the lending institution until you repay your debt in full. It implies that in the event of default, the financial institution has the complete right to sell your car to recover its losses.
You Get a Low Loan Amount:
Many people believe that a second-hand car loan provides only a small amount of money. However, if that is the case, then all those lending institutions who promise to let you buy a luxury used car on a loan must be lying? The fact is, second-hand car loans are available for the amount ranging from Rs 50,000 to Rs 50 lakh. It means that whether you want to fit your family into a low-budget sedan or take a group of friends on a road trip in a luxury SUV, a second-hand car loan can meet your needs. In addition, you may also obtain a loan against your used car loan with a maximum LTV of 175%. However, keep in mind, that the amount of a second-hand car loan is determined by the borrower's profile which includes income, credit history, employment status, vehicle type, and more.
Only Banks Provide this Loan:
Even in this day and age of digitisation, there are still those who assume that second-hand car loans are solely available from banks. However, the fact is far different from the myth. You can easily find numerous NBFCs that offer second-hand car loans. In fact, various banking institutions' interest rates are quite higher when compared to NBFCs. In addition, most banks prefer to lend second-hand car loans to their existing customers only.
So, now that you know this, the next time a banking institution denies your loan application, simply apply with one of the many Non-Banking Financial Institutions (NBFCs) in the country. Remember, NBFCs second-hand car loan approval rates, as well as interest rates, are far better than that of banking institutions.
NBFCs Do Not Offer Value Added Services:
With the growing competition in the financial market, finding an institution that provides a service that is significantly superior to that of other lenders is a challenging task. If someone claims that an XYZ bank provides this and that service but that NBFCs do not, they are spreading a complete falsehood. Value-added services (VAS) in a second-hand car loan such as including insurance and accessories cost in the loan amount are now offered by almost every Non-Banking Financial Institutions (NBFCs). Therefore, the next time someone tells you that NBFCs do not offer VAS, ask them to educate themselves first.
Second-hand Car Loans are Offered in Metro Cities Only
Another prevalent misconception about second-hand car loans is that they are available in metro cities only. However, the fact is, with the growing presence of used car dealers, second-hand car loan financers are also spreading their reach aggressively. Given this, even if you reside in a small town, you can still apply for a second-hand car loan.
To Conclude:
So, as you would have realised that availing of a second-hand car loan is not as complex as it is made to look sometimes, it is time to get back to planning the purchase of your dream car.