Mid-drive Lectric XPremium folding e-bike comes at reasonable $1,799 introductory price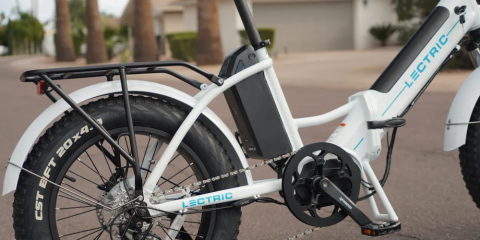 Phoenix-based Lectric eBikes recently introduced the world to its new higher-end mid-drive folding electric bike (e-bike), called the Lectric XPremium. To be available soon at a reasonable $1,799 introductory price, the Lectric XPremium comes equipped with a mid-drive electric motor that is capable of reaching speeds of up to 28 mph (roughly 45 km/h), thanks to its continuous power rating of 500W and peak rating of 800W.
The mid-drive motor comes accompanied by a 7-speed transmission that boosts its torque, making it more capable of climbing hills at higher speeds. Depending on the user-adjustable setting, the built-in throttle allows the user to operate the e-bike in Class 1, 2 or 3.
There are two battery packs that double the riding range, allowing riders to travel longer distances, even at high speeds. One of the two batteries is positioned inside the downtube, while the other is positioned at the rear of the seat tube. Real world test data, released by the manufacturer, showed that the e-bike can cover a distance of 50 miles (80 km) on throttle-only riding with a 180 lb (82 kg) rider on flat ground. In pedal assist level 2, it can cover a distance of 140 miles (225 km). As the batteries are easily removable, one can charge them anywhere inside a home or office. Moreover, the downtube battery can be removed from the bike without having to fold it.
Owing to its low-slung frame, the e-bike can be mounted and dismounted easily. It is capable of bearing a maximum weight of 150 kg (330 lb), so it fit for a wide range of riders. The combination of 82mm travel front suspension fork and 4-inch puncture resistant fat tires offers a super smooth ride, even on bumpy roads. To bring the bike to instant halt, there are fast, powerful and reliable hydraulic disc brakes that require less maintenance than cable-actuated mechanical disc brakes.
Unlike many other e-bikes, premium headlight accessory comes as standard equipment, and the tail lights flash when the brakes are applied. It will arrive fully assembled, so buyers will be able to ride it immediately after taking it out of the box.
The Lectric XPremium will soon be open for pre-orders at its introductory price of $1,799. However, the attractive introductory price mightn't last long as market experts expect it to go up to at least $1,999 soon after the launch.