Mercedes-Benz unveils battery-powered 7-seat EQB compact SUV; U.S. to get it next year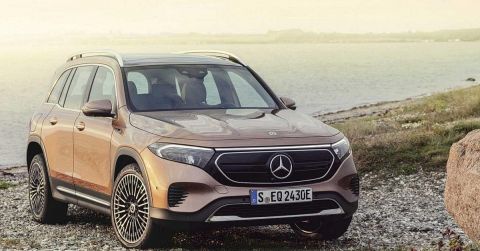 Stuttgart, Baden-Württemberg-headquartered luxury automobile giant Mercedes-Benz has confirmed that the EQB compact SUV with 7 seats will be rolled out in the United States next year. The battery-powered SUV will first go on sale in China and Europe.
The electric compact EQB SUV was unveiled on Sunday, 18th of April, during the EQB World Premiere @ Mercedes-EQ Night Shanghai that took place on the eve of the opening press day of Auto Shanghai 2021.
According to Mercedes-Benz's claims, the new EV will set a new standard in the electric compact SUV segment with its flexible space. However, the auto giant didn't reveal much about the EV. Without revealing much about the new electric compact SUV, the German automaker released a teaser image of the vehicle, and announced that it would offer seats for seven passengers in addition to 1,700-litre cargo space. It also confirmed that the EV would first be rolled out in China, then in Europe later this year. The U.S. customers will get it sometime next year.
Unveiling the new EV, the automaker said, "It offers room for up to seven passengers or a maximum of 1,700 litres of luggage. After the market launch in China, the European version of the EQB will follow later this year and will also be available on the U.S. market in 2022."
While the automaker has just unveiled the compact EQB SUV, it plans to bring a production model/version to market really quickly.
Customers will be offered several options or models to choose from, including some with front-wheel drive (FWD), some with all-wheel drive (AWD), and a long-range model. The EV with the seven-seat option will feature a small third row.
Nothing has been revealed about the price of the new EV, but it expected to fall in the range of $40,000 to $50,000.
After entering the increasingly more crowded electric SUV segment of the fast-growing automobile market, the battery-powered EQB will compete with peers like the Tesla Model Y, Audi Q4 e-tron, Jaguar I-Pace, and Ford Mustang Mach-E.
In December last year, the automaker announced plans to launch at least six new EVs by the end of 2022. Earlier this month, it launched its electric luxury sedan, the EQS, which offers 478 miles of range on single charge. The efforts suggests that the German automaker make for the time it lost because of a delay in its decision to enter the EV segment of the market.