Malaysian prime minister to step down in March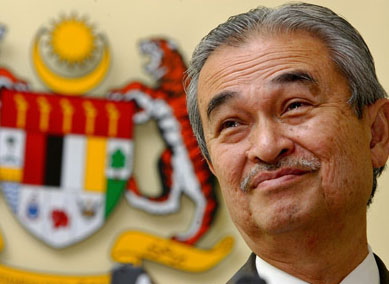 Kuala Kuala Lumpur - Malaysian Prime Minister Abdullah Ahmad Badawi announced Wednesday that he would step down in March when he cedes the helm of the ruling party to his deputy.
Abdullah, who is president of the United Malays National Organization (UMNO), made the announcement at a special meeting with top leaders of the 13 parties comprising the ruling National Front coalition.
Traditionally, the president of UMNO - the backbone of the coalition - becomes prime minister. Abdullah's resignation as party leader means he would also step down as prime minister.
The embattled premier's announcement didn't come as a shock to many as he had been fighting off calls to quit after he led the ruling coalition to disastrous results in the March 8 general elections.
The Front lost five out of 13 states to the opposition - led by former deputy prime minister Anwar Ibrahim - and failed to secure a two-thirds majority in Parliament for the first time in the country's
51-year history.
Abdullah said his decision to quit four years before the end of his term as prime minister was to safeguard the unity of party and the nation.
"I have always placed the interest of the nation above all else. It is with this in mind that I announce that I will not stand for the presidency of UMNO.
"I do not want a divided party and governing coalition but one that is united and harmonious," he said.
"This is not the time for infighting and narrow politics but for greatness, unity and cooperation," Abdullah was quoted as saying by the official Bernama news agency.
Abdullah, 68, had said earlier he would resign by mid-2010, but his critics said it was too long a wait. Last month, he indicated he would step down and hand over power to his deputy Najib Razak.
If there are no other candidates vying for the post of party president in March, Najib will automatically become the sixth prime minister of Malaysia.
Abdullah said Wednesday that he would continue his efforts at reforms in the economy, judiciary and administration in the remaining five months of his premiership.
However, critics have said little progress has been seen of Abdullah's pledge to wipe our corruption and restore public confidence in the government since he came into power in 2003.
Currently, the opposition holds 82 seats out of 222. (dpa)