Krishna confesses his involvement in Aarushi murder case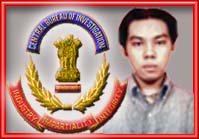 Ghaziabad, June 17 : The Central Bureau of Investigation (CBI) on Tuesday claimed before a special court that Krishna, the compounder of Dr. Rajesh Talwar accepted his involvement in the murder of Aarushi Talwar and domestic help Hemraj.
He promised that he would help in recovering the weapon used in the twin murder.
Krishna told the agency that he would also help them in recovering Aarushi's mobile phone and should be given a chance, the CBI claimed.
The CBI made the claim before the designated court of Sapna Mishra under Section 161 of the CrPC.
Meanwhile, CBI Joint Director Arun Kumar told reporters that they have recovered an article from the residence of Rajkumar, domestic help of Durranis who was a friend of Talwar
The article was sent for examination.
The Central Bureau of Investigation (CBI) court at Ghaziabad today remanded dentist Rajesh Talwar's compounder Krishna to six days of CBI custody.
On Monday he was taken to Noida where fresh searches were conducted to trace the mobile phone of Aarushi and domestic help Hemraj. He was on remand for the past three days, which ended today therefore; the CBI demanded its extension.
The CBI had arrested Krishna on the basis of reports of polygraph test and narco-analysis test conducted on him at the Forensic Sciences Laboratory in Bangalore on June 12.
On May 23, the police arrested Rajesh Talwar, an accused of killing his daughter Aarushi and his domestic help Hemraj. (ANI)