Koirala meets Nepal's security chiefs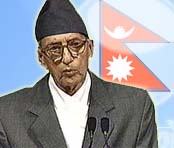 Kathmandu, Aug 12 : Nepal's caretaker Prime Minister Girija Prasad Koirala met heads of security agencies today to discuss the issue of integration of the Nepal Army and the Maoist People''s Liberation Army (PLA).
Chief of Army Staff (CoAS) Rukmangad Katuwal, Inspector General of Police Om Bikram Rana and Inspector General of Armed Police Force Basudev Oli discussed the security situation with Koirala at his residence in Baluwatar.
At the meeting, Koirala warned the CoAS about the challenges that may rise in the integration of the Maoist combatants into the Nepal Army after the Maoist-led government is formed.
He also directed the head of the Nepal police and the APF to deal with problems that may occur after scrapping the syndicate system in a peaceful manner
The meeting comes in the wake of the dispute between the Nepali Congress and the Maoists for the defence portfolio. (ANI)