Jihad only way to liberate Indian Kashmir: ex- Pak generals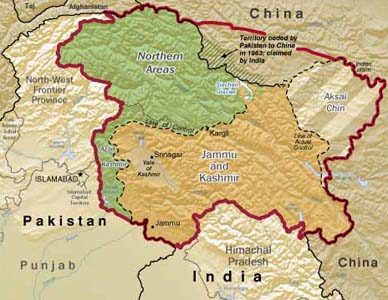 Islamabad, Feb 6: Several retired army generals have said that a holy war is required to liberate the Indian side of Kashmir.
Addressing a seminar on Kashmir Solidarity Day at a local hotel, they said the faulty policies of President Pervez Musharraf over the past eight years had pushed the Kashmir issue to the backburner.
Predicting that it would remain unresolved as long as Musharraf remained in power, the former soldiers said sacked Supreme Court Chief Justice Iftikhar Muhammad Chaudhry and incarcerated nuclear scientist Dr. Abdul Qadeer Khan seemed the ideal leadership choices for Pakistanis.
The Pakistan Ex-Servicemen Society organised the seminar.
General (retired) Abdul Qayyum claimed a jihad was necessary to liberate Kashmir, while former army chief General (retired) Mirza Aslam Baig said freedom was the birthright of Kashmiris and no one could deprive them of it.
The Daily Times quoted former Rawalpindi Corps Commander General (retired) Jamshaid Gulzar Kiyani as saying that Pakistan had rendered many sacrifices for the Kashmir cause.
Former ISI chief General (r) Hameed Gul said Srinagar was just as important as Islamabad for Pakistanis. (ANI)