Iranian Nobel peace laureate not yet allowed to see Saberi in jail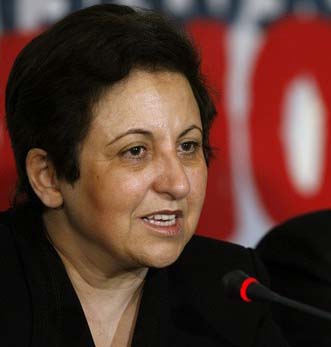 Tehran - Iranian Nobel peace laureate Shirin Ebadi has not yet been allowed to visit Iranian-American journalist Roxana Saberi in the Evin jail in northern Tehran, Saberi's lawyer said Saturday. "As far as I am informed, Ebadi and her colleagues have already followed up the case but not yet succeeded to visit her in jail for getting her signature for the mandate," Abdolsamad Khoramshahi told the labour news agency ILNA.
Saberi was sentenced to an eight-year jail term last week on charges of spying for the US government.
Saberi is currently assisted by Khoramshahi, but Nobel peace Ebadi said that she and at least two of her colleagues will also join her defence team.
Khoramshahi also told ILNA that he has already filed protest against the initial verdict and submitted the appeal bill.
Saberi's Iranian father and Japanese mother are currently in Tehran and plan to stay until they are allowed to take their daughter back to their home in the US state of North Dakota.
The father told the Western media in Tehran on Saturday that his daughter had begun a hunger strike last Tuesday and aimed to continue it until she was released.
He added he and her mother were worried about Saberi's health and that she sounded weak in the last phone contact.
Tehran court head Alireza Avaei said Friday that three judges were likely to preside over Saberi's appeal court proceedings after Iranian President Mahmoud Ahmadinejad and judiciary head Ayatollah Mahmoud Hashemi-Shahroudi had called for a fair appeal court.
Iran's intelligence service chief Mohseni Ejehi however noted last Tuesday that Saberi would be treated as an Iranian and not as a US national.
In Iran, dual nationality is not acknowledged but is tolerated. In official cases, however, only the nationality of the father is counted and not the citizenship of either the mother or that of a third country.
Saberi, 31, has an Iranian father and Japanese mother and is a US citizen.
US President Barack Obama earlier this week rejected the spying charges but Tehran called on Obama, as a law graduate, to respect the Iranian judiciary's decisions and independence and not to politicise the Saberi case.
Saberi, a reporter for US National Public Radio, originally faced less serious charges of buying alcohol and of working without a valid press card.
She has been in Tehran's Evin prison since January, following her arrest for buying a bottle of wine. Both buying and consuming alcohol are forbidden in Islamic Iran.
But the judiciary then charged her with espionage, and the Tehran prosecutor's office announced last week that Saberi's case was sent to a revolutionary court which decides in cases involving offences against national security. (dpa)