Intra Day Buy Call For HDFC Bank
Submitted by Shilpa Mahapatre on Fri, 01/28/2011 - 16:07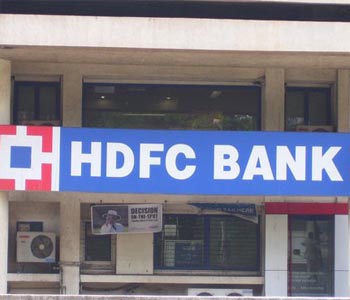 Technical analyst Anil Singhvi has maintained 'buy' rating on HDFC Bank Limited stock with an intra-day target of Rs 2125.
According to analyst, the investors can purchase the stock with a stop loss of Rs 2030.
The stock of the company, on January 27, closed at Rs 2052.15 on the Bombay Stock Exchange (BSE).
The share price has seen a 52-week high of Rs 2518 and a low of Rs 1560 on BSE.
Current EPS & P/E ratio stood at 78.87 and 26.18 respectively.
HDFC Bank has kicked off its 100th arm in the state of Andhra Pradesh.
The fully fledged division in Hyderguda region, kicked off by G Sudhir, Special Secretary, AP Government, will provide its clients first-rate banking services.
C S Gopinath, Regional Head, HDFC Bank said, "HDFCBank opened its first branch in Hyderabad in 1997."
Beating estimations, private sector lender HDFC Bank recorded an increase of 32.9% in its net profit, which stood at Rs 1087.83 crore for the three month period ended December as against Rs 818.50 crore during the same period of 2009.
The bank's net interest income surged 24.9% to Rs 2,776.7 crore from Rs 2,224 crore during the year-ago period.
Total income of the bank surged 28.86% per cent to Rs 6,357.8 crore.
"The rise in net interest income came on the back of asset growth and net interest margins," Executive Director Paresh Sukthankar said.