Inter Airport Europe 2019: Kamag to exhibit electric catering vehicle for aircrafts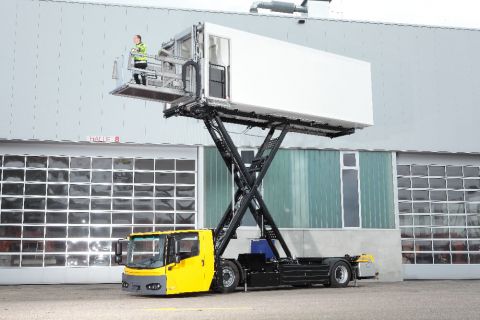 At the Inter Airport Europe 2019 trade show to be held in Munich from October 8 to October 10, Germany-based industrial vehicles manufacturer Kamag will exhibit a new electric catering vehicle for loading as well as unloading commercial aircrafts. The vehicle is called E-Catering Wiesel (ECW).
The near-series ECW to be exhibited by Kamag at the trade show has already undergone a testing phase at Vienna International Airport. During the testing, the ECW was used for everyday airport operations.
Kamag has revealed that the ECW will be the first catering vehicle equipped with an electro-hydraulic drive, to reduce CO2 emissions at airports. The body of the ECW has 7.37m loading length. The vehicle has 4,500 kg payload, and transfer heights varying between 1.35m and 6m, depending on the model.
The ECW will be outfitted with two lithium-ion battery packs offering 80 kWh total capacity, and two electric motors --- one for directly driving the vehicle's rear axle with 156 kW, and the other for powering the hydraulics. The ECW will offer "unrivalled range," and its 40 km/h top speed will enable it to bridge the typical 3-4 km distance to the aircraft at a quick pace.
The ECW will also come with an onboard charger with 22 kW capacity. The vehicle's battery can also be recharged at a wall box or a charging station.