India, US agree to counter terror together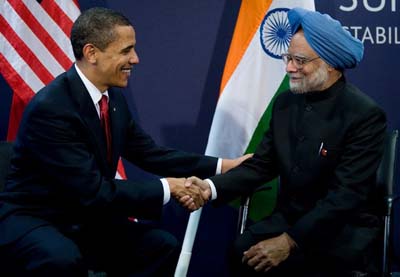 London, Apr. 3: Prime Minister Manmohan Singh and US President Barack Obama have agreed to fight terrorism together.
Both leaders discussed developments in Pakistan and Afghanistan and emphasised on strengthening strategic bilateral ties.
"Well, we did discuss the development in Afghanistan and Pakistan. We both agreed that our two countries must work together to counter the forces of terror," Dr. Singh told reporters on the sidelines of the G-20 summit in London.
He also expressed satisfaction over his meeting with Obama.
"So I go back home very satisfied with the outcome both with the summit and my meetings with world leaders and especially with President Barack Obama," Dr. Singh said.
The new US anti-terror strategy calls for involvement of more South Asian countries like Iran as well as India, China and Russia.
India, on its part, had asserted that it was ready to play a role in a new US war strategy for Afghanistan, welcoming what it said was a comprehensive plan to stamp out extremism that had roots in Pakistan.
However, the Prime Minister reiterated that discussions between India and Pakistan cannot proceed until Pakistan sincerely fulfils its commitments to bring to book the culprits of the Mumbai attack.
"It has to convince us that it is absolutely sincere in bringing to book the culprits of attack on Mumbai. As far as Kashmir is concerned we have always said that we are willing to discuss bilaterally all outstanding issues, which bedeviled the relation of our two countries. But let me say that these relations or these discussions cannot proceed if hundreds of people as happened in Mumbai are being killed," Dr. Singh said.
On the ensuing Lok Sabha elections, he exuded confidence of Congress retaining power.
"I can give the guarantee that the elections will be free and fair and I am also sure that in the coming elections Congress party will come up as number one party," Dr. Singh said. (ANI)