India's Prevail Electric launches three affordable electric scooters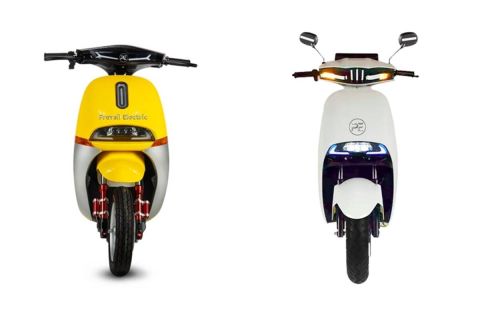 Indian EV startup Prevail Electric has announced the launch of a range of new electric scooters (e-scooters), which claim to offer a blend of smooth ride and unique style at affordable prices. The comparatively new EV maker joined the fray by commencing its stint with three electric offerings, viz. Wolfury, Finesse, and Elite. Priced at Rs 89,999 (roughly US$1,207), the Wolfury is the most affordable e-scooter in the range.
According to Prevail Electric's claims, the Wolfury e-scooter comes equipped with a standard lithium-ion battery that supplies power to a brushless DC motor, delivering an impressive range of 110 km (68 miles) on a single full charge. The battery takes 4 hours to get fully replenished, using a conventional wall socket. It has a top speed of 50 km/h (31 mph), which makes it ideal for in-city rides.
The retro-styled Finesse two-wheeler comes in bright yellow and gray hues. Available with a price tag of Rs 99,999 (US$$1,341), the Finesse e-scooter is slightly faster than the more-affordable Wolfury. It can reach a top speed of 60 km/h (37 mph). However, it is Just like the Wolfury in term of battery as it also comes equipped with a lithium-ion battery that consumes 4 hours to get fully charged. Powered by a similar battery and a similar electric motor, it also delivers a range of 110 km (68 miles) per charge.
The Elite is at the top of the model range. Available with a price tag of Rs 129,999 (US$1,743), the Elite gets noticeably more premium styling, with its body reminiscent of the Ather 450X e-scooter. It has a fully digital LCD that has built-in navigation. It also offers Bluetooth connectivity that allows the rider to enjoy music in addition to accepting and rejecting phone calls. The innovative technology also enables the rider to receive notifications from their smartphones. It is capable of delivering a range of 110 km on a single charge.
Launching the new e-scooters, Prevail Electric CEO Hemant Bhatt said, "After months of research & development, we are finally ready to launch our new scooter models. Our brand new three scooter models with premium features and commendable speed are ready to revolutionize the e-mobility space in India."
All the three e-scooters have a maximum climb capability of 30-degree, and their Hydraulic Damping systems keep shocks at an arm's length, making the overall riding experience smoother and more comfortable. To make the e-scooters more attractive, the EV startup is offering a three-year warranty.